There is nothing like enjoying a weekend brunch. Especially the brunches that cheer up our Sundays, bringing everyone together with long conversations and relieving the weariness of the week. We have prepared for you a few suggestions from brunch tables of different cultures.
Bearded pastry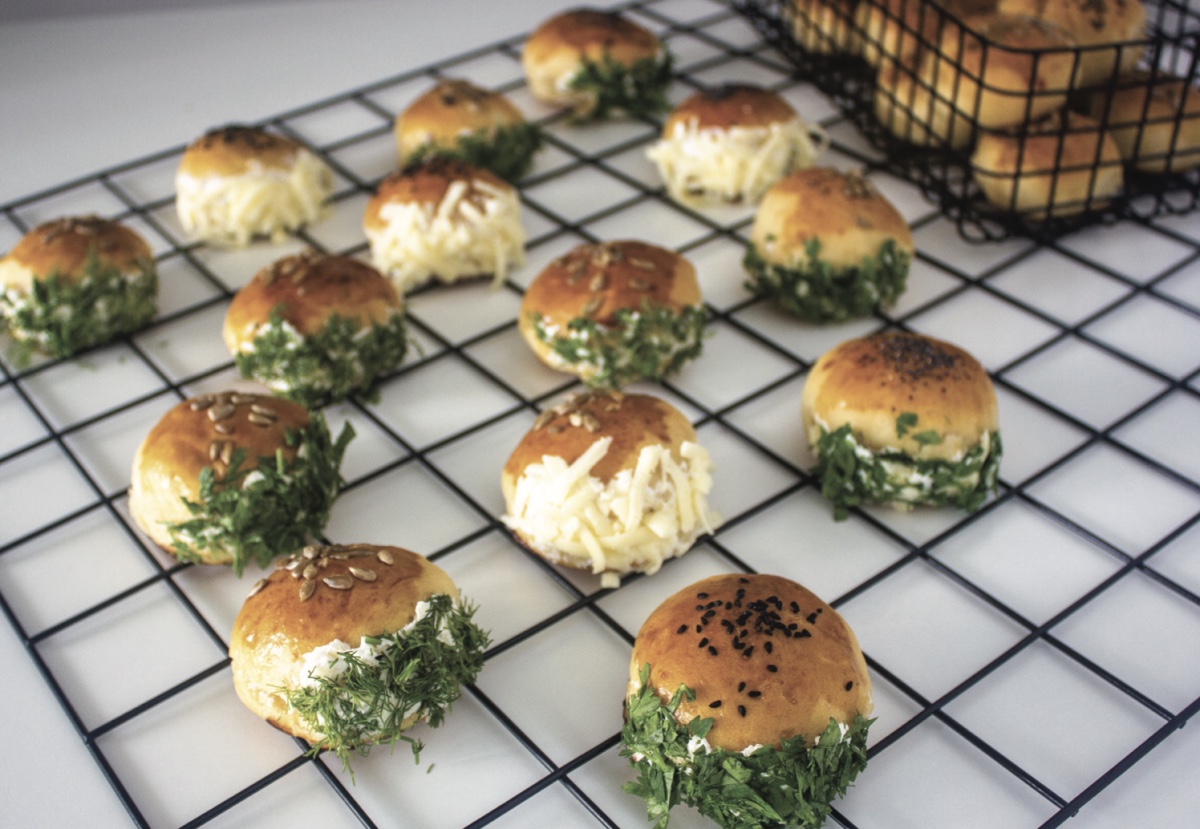 INGREDIENTS:
Dough:
½ glass of warm milk
½ glass of warm water
2 tablespoons of sugar
1 packet of dry yeast
4 glasses of flour + 3 tablespoons of flour for kneading
1 teaspoon of salt
½ glass of oil
½ glass of yogurt
1 egg
Top side:
1 egg yolk
1½tablespoons of water
The stuffing:
400 gr. mild cream cheese
150 gr. grated feta cheese or cottage cheese
Glaze:
1 handful of finely chopped parsley (or dill)
1 glass of grated fresh cheddar cheese
PREPERATION: Mix warm water, milk, sugar and yeast in a bowl. Cover it and let it rest until it doubles in size. Add eggs, oil, yogurt, and salt and whisk them well. Add flour slowly and knead it for 10 minutes. Cover it with a clean cloth and let it rest for 1 hour. Divide the dough into walnut-sized equal pieces and roll them with your hands, then place them on the baking paper making sure they do not touch each other. Cover them with a clean cloth and let them rest for 15 minutes. Whisk the egg yolk and water. Brush the dough gently with the egg yolk mix and bake them in a preheated oven at 180 degrees for 15-20 minutes until they turn a golden-brown color. Let them cool. Mix the mild cream cheese and feta cheese in a bowl. Mix the grated cheddar cheese and chopped parsley (or dill) in a separate bowl. Cut the cooled bread in half and put 1-2 teaspoons of the cream cheese and feta mixture between the halves. Lightly press the pieces together and dip the cheesy part into the cheddar cheese mixture and serve.
Sausage strata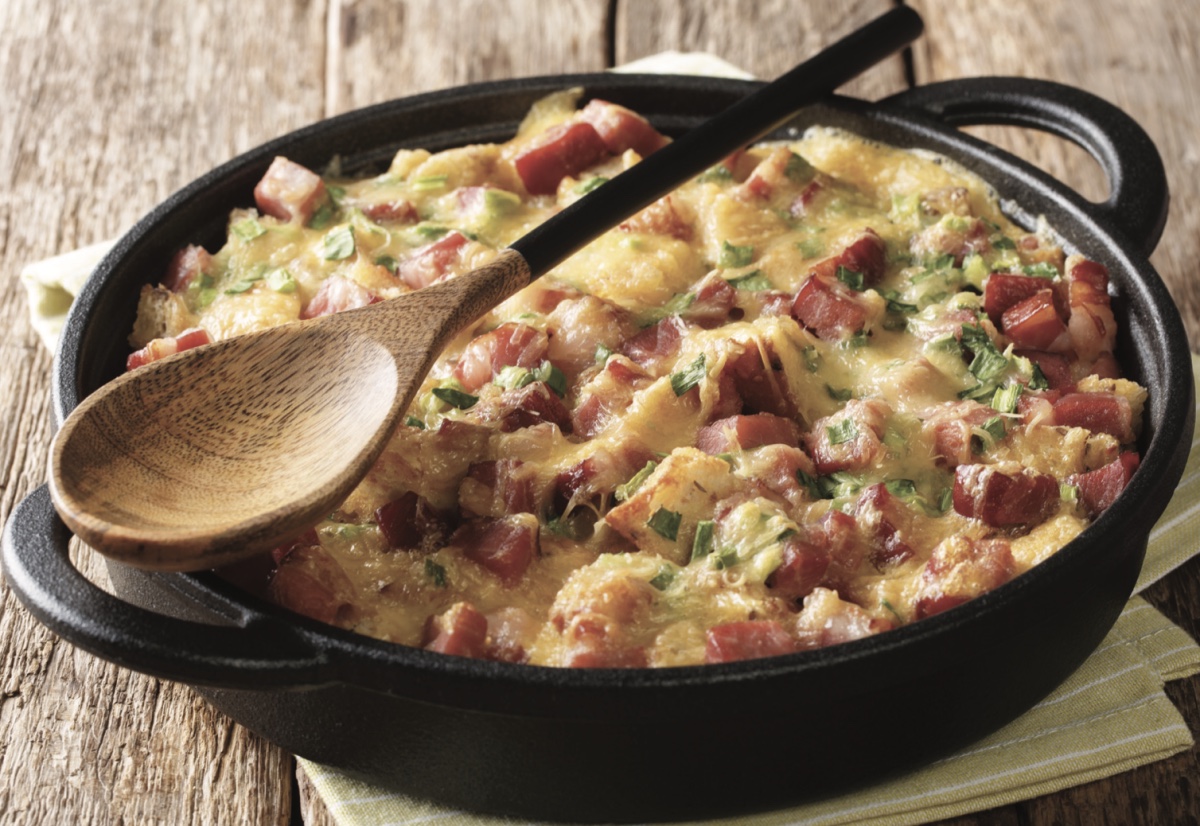 INGREDIENTS:
1 tablespoon of butter
500 gr. sliced Italian sausage
10 large eggs
2 glasses of milk
Salt
Black pepper
4 cups of cubed bread
1½ cups of grated Fontina cheese (or cheddar cheese)
1 glass of spinach
1 cup of sliced mushrooms
1 cup cherry tomatoes cut in half
A few spring onions
PREPERATION: Preheat the oven to 180 degrees and grease the ovenware with butter. Add the sausage to a large pan over medium-high heat and cook it until it turns a golden color, for about 7 minutes. Remove it from heat and let it cool. Whisk eggs and milk in a large bowl. Add salt and pepper. Add the bread, 1 cup of cheese, spinach, mushrooms, tomatoes, and the cooked sausages. Mix the ingredients together without crushing them. Pour the mixture into the ovenware. Sprinkle the remaining cheese over the mixture. Bake it for about 50-55 minutes until the cheese turns a golden color. Garnish it with chopped spring onions and serve.
Eggs Benedict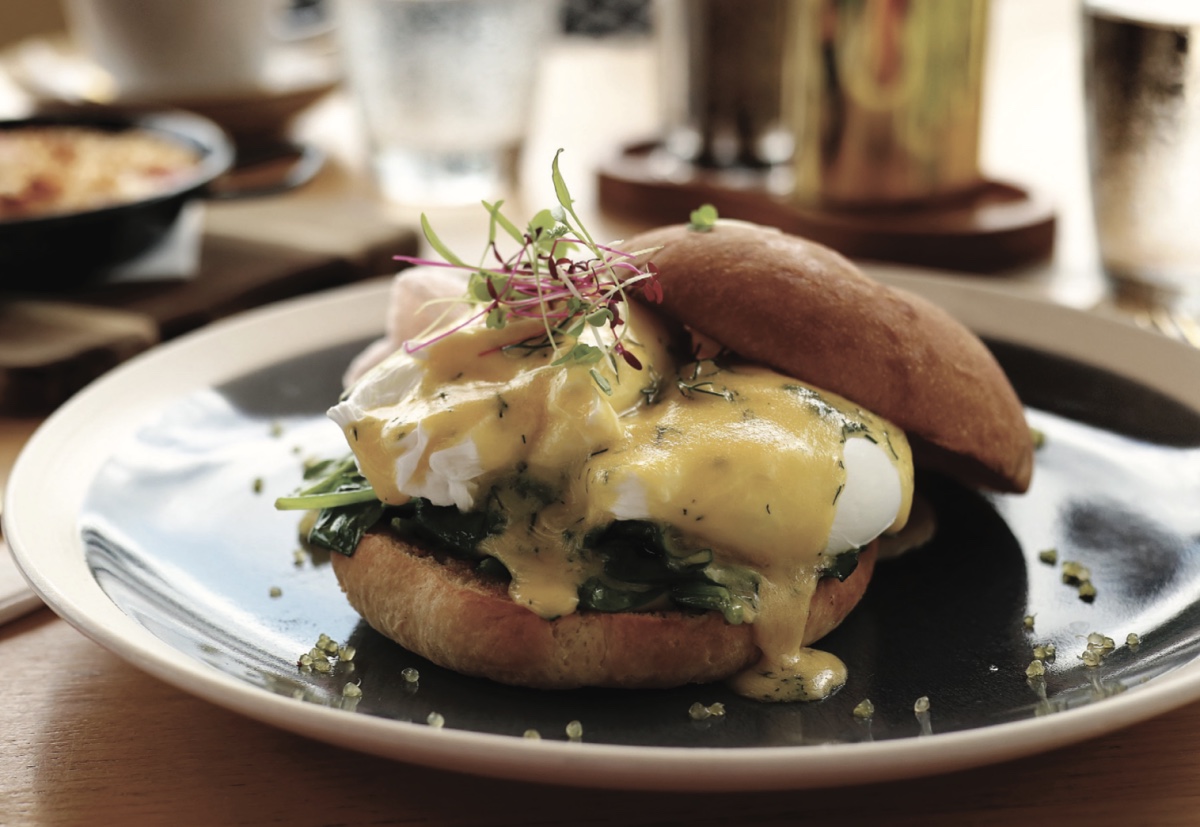 INGREDIENTS:
5 spring onions
2 tablespoons of olive oil
300 gr. spinach
A pinch of nutmeg
1 lemon
4 English muffins (or bread rolls)
8 small eggs
100 gr. smoked bacon (or pastrami)
Hollandaise sauce:
100 gr. melted butter
2 large egg yolks
1 teaspoon of Dijon mustard
White wine vinegar (or grape vinegar)
PREPERATION: Preheat the oven to 180 degrees. Chop the spring onions and sauté them for a few minutes in a small amount of oil over a medium heat. Add the spinach, season it with a pinch of nutmeg, salt and pepper. Squeeze lemon over the cooked spinach and turn off the stove. To prepare the Hollandaise: Boil the water in a pot. Place a heatproof bowl over the pot and quickly start whisking the egg yolks with a tablespoon of lemon juice and mustard until they are creamy. In order for the cooked mixture to cool quickly, take it off the stove, add the butter, and continue mixing. You can add a little warm water to dilute the consistency of the thick mixture. Cover with cling film, but don't let it touch the mixture. Poach the eggs by breaking them into boiling water. Put the spinach on the muffins. Place the bacon, lay the poached eggs on top, pour over 1 tablespoon of Hollandaise sauce and sprinkle with the chopped spring onions.
Syrniki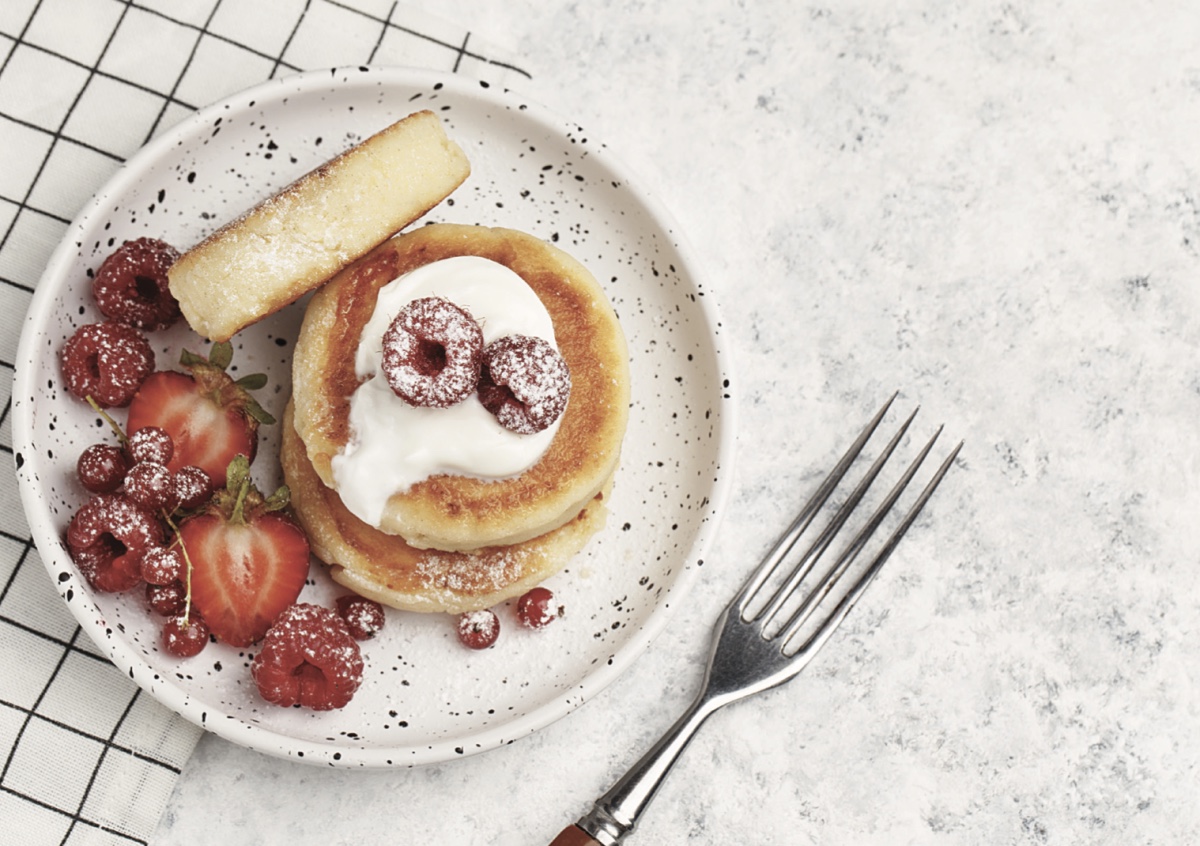 INGREDIENTS:
500 gr. Tvorog cheese (or sweet curd)
2 large eggs
¼ cup of granulated sugar
¼ cup of flour or semolina
1 teaspoon of vanilla extract
1 glass of sour cream
½ cup of powdered sugar
1 glass of red fruit (raspberry, blueberry, currant)
PREPERATION: Mix everything by using a fork or a mixer, to the consistency of a sticky mixture. Place 2 cups of flour in a wide short-sided bowl, use a large ice cream scoop for the Syrniki mixture, and put it directly in the flour. Then, shape it into a ball. Press and flatten it until it becomes a disc without making it too thin. Coat it with flour to prevent it from sticking. Add oil and butter to a pan. Cook the Syrniki until it turns a golden color on both sides. Sprinkle powdered sugar on top and serve it with sweetened sour cream or fresh fruits.