Ant Yapı has implemented five tourism investments worth $250 million in the last 10 years, we continue to grow in the sector despite the pandemic and the negative conditions. We plan to complete our sixth investment by opening the Radisson Collection, the premium brand of the Radisson Hotel Group, one of the world's largest hotel chains, in Bodrum at the end of April 2021.
Ant Yapı continues to grow confidently in the sector since our first investment in the tourism field in 2010. Our group, which has made a total of $250 million worth of tourism investments in the last 10 years, continues to grow in the sector with our sixth investment that will open its doors in Bodrum this year, despite all the adverse conditions.
Over the past 10 years, we have accomplished successful projects with the leaders in the tourism industry. Our first investment was in 2010, in collaboration with the international brand, Singapore-based Frasers Hospitality. Fraser Place Anthill Istanbul which is a 'Serviced Residence Apartments' concept, received an award in 'Turkey's Best Serviced Apartment' category at the 2014-2015 World's Best Luxury Hotel Awards competition. In the same year, we opened our Antmare Boutique Hotel in Alaçatı, which offers, comfort, and a unique vacation opportunity that understands personalized service.
We made our third tourism investment in cooperation with the Radisson Hotel Group, which is also an international brand and one of the fastest-growing hotel chains in the world. At our Radisson Blu Hotel Istanbul Asia, opened in 2012, we offer luxurious accommodation with our five-star service concept. Within the scope of the agreement we made with Frasers Hospitality, the world's giant accommodation group, we realized our second luxury 'residence' concept project Fraser Place Antasya Istanbul in 2016. With Fraser Place Antasya Istanbul, we are delighted to be able to bring the comfort of a 7-star hotel to the Anatolian Side. Our hotel, is definitely worth a visit according to the 2018 review from the guests, placing it among Turkey's top 25 luxury hotels and 2019 Travelers' Choice Award.
We bring the firsts to life
Antwell, which we built in Çamlıca, Istanbul, is the most recent project from our group, that has been completed and put into service. It focuses on a 'healthy life' at its core, with a holistic approach from design to the services it offers, and from its social living spaces to its hotel services. Our own brand Antwell is the first development in Turkey that follows a concept, although there are many examples in other countries around the world. It offers a 'residence' concept and hospitality service for health tourism, with the quality and standards similar to the ones abroad. We are planning to grow and build Antwell as a brand. In 2019 it received an award at Sign of The City Awards, one of the most prestigious real estate awards in Turkey.
In April, we are planning to complete our sixth investment by opening the Radisson Collection, the premium brand of the Radisson Hotel Group, one of the world's largest hotel chains, in Bodrum. Our hotel, which will operate under the name Radisson Collection Hotel in Bodrum, is also the first premium hotel of the Radisson Hotel Group in Turkey. Synthesizing European design aesthetics with original Mediterranean architecture, the facility will feature high-end accommodation, indoor and outdoor swimming pools, terrace bar, fitness rooms, meeting rooms, restaurants, lounge areas, and a private marina as well as a private beach to which there will be direct access.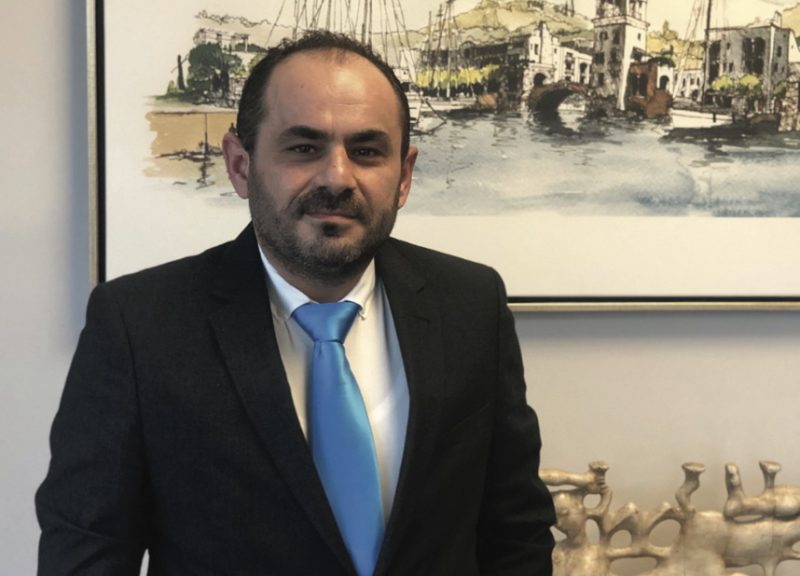 We have faith in the sector
At Ant Yapı, we have continued to demonstrate our belief in the tourism sector by completing our ongoing investments, throughout the pandemic. Ant Yapı Hotel Investments Employer Representative İlhan Akpınar stated that our investments in the sector will continue in the coming period. This underlined that although the tourism sector has experienced problems over the past year or two such as economic crises, pandemic, and other setbacks, it will always maintain its rising trend in the long term. Akpınar said, "We, at Ant Yapı, attach great importance to tourism, it is a sector we are closest to, with a total value of our domestic tourism investment projects at $250 million. The feedback from all our investments, as well as the positive comments from our guests after their accommodation experience, is gratifying. In order to see more growth in this sector, to increase our marketing power, brand awareness, and to obtain more efficient and fast returns from our investments, we will instigate new projects in cooperation with best global brands when opportunities arise."
We opened our doors to healthcare professionals
Referring to the effects of the COVID-19 pandemic on the industry, Akpınar also shared the decisions Ant Yapı made regarding the epidemic: "We opened our hotel to healthcare professionals, allowing them to stay somewhere safe and comfortable, and we tried to support our country during this time. With the normalization process, our facilities have been given the Safe Tourism Certificate. I would like to state that our first priority has been to protect both our employees' and guests' health, and our second priority is to keep our accommodation businesses alive whilst protecting everyone. For this, it is important to continue the support being provided to the tourism sector and for new assistance to be provided. With the 'new normal' in tourism, we will now review everything we know, as the rules of the game have completely changed. The key will be to be able to continue to move forward without getting damaged in this stormy sea." 
Your home away from home: Frasier Place Antasya
Developed by Ant Yapı, Antasya Residence has 42 floors and is located in Umraniye, one of the most important business centers in Istanbul. Fraser Place Antasya Istanbul, located on the top seven floors of this building, welcomes its guests with the philosophy of 'your home away from home'. The project, which was implemented with an investment of $20 million, has a total of 80 rooms, 5 meeting rooms, a restaurant, a gym, and indoor swimming pools. Ufuk Serab, General Manager of Fraser Place Antasya, which opened its doors in February 2016, said, "Especially for those who travel for business, those who travel with their families, and for those who will stay long term, we are the preferred option. Our guests can cook in their fully equipped kitchens in their own rooms or benefit from the restaurant or room service. They can choose to either wash and iron their laundry in their own room or use the hotel's dry-cleaning service. We can host guests for just a few nights or for a couple of years and we are the only international facility in the region with this concept". Emphasizing that what makes Fraser Antasya different is the concept and guest satisfaction, Serab says, "Happy employee means happy guest. In the Fraser Place Antasya family, we are a team that is happy while also doing our jobs".
A shot in the arm for Istanbul
Fraser Place Anthill opened in April 2011 and is one of the first hotels in Turkey to realize the "serviced apartments" concept. It draws attention as an innovative project that provides a shot in the arm for Istanbul, which Ant Yapı has made a reality with the right investment at the right time. It takes only minutes to access important business and shopping centers from the hotel. Hülya Temurci, General Manager of Fraser Place Anthill, says, "In our understanding of service, it is a priority for us to be available for every guest, make them feel they are special to us and that they are our guests here. Like the taste of a meal made with love is different, the quality of service made with dedication is different. To achieve this, our team includes people who love their job and are passionate about the service sector." Fraser Place Anthill consists of 116 rooms, with a variety of alternatives from one bedroom to four bedrooms, and penthouse rooms, each with a unique view of Istanbul. The investment is vital for those who cannot break away from the city center, the pace, and energy. Temurci declares that they will start to work every morning to make a difference in 2021, saying "With the services we provide and the results we will achieve, we will fly the flags of both our country and our investor's company, Ant Yapı, and Frasers Hospitality."
We do not accept payment if you are not satisfied with your experience
Radisson Blu Hotel Istanbul Asia started its operations in the rising financial center of Ataşehir, and its 195 rooms have been opened since March 2012. General Manager of the Hotel, Mustafa Gültekin says, "It is a must for us that every guest we host receives the best service and has an unforgettable accommodation experience. If we cannot provide this, then that service is considered not to have been delivered, and therefore a fee will not be demanded," he says. Stating that tourism is one of the sectors that has been affected the most during the pandemic, Gültekin says, "We decided we would immediately suspend our normal accommodation services as of the end of March 2020, and opened our doors only to healthcare professionals, free of charge. We hosted healthcare professionals for three months and bid them farewell with much gratitude. Throughout my career, there must have been many other situations that I have been proud of, but this was different. I would like to express our respect and appreciation to Ant Yapı Management, for providing this, taking this decision, and supporting us throughout this period both professionally and personally". Stating that they maintain their hope that tourism will revive and rise again for this year, Gültekin says "It is our constant goal to maintain our leadership position in guest satisfaction, to uphold our understanding of excellent service quality, and to provide maximum benefit to both our investors and employees".
Turkey's first health residence
Our project Antwell, focuses on healthy living, offering 5-star hotel services as if you are in your own home, and achieves this with very high hygiene standards. General Manager Esen Türkmen, stating that our country is one of the most popular in terms of health tourism, says, "We have guests from all around the world and we owe this to the fact that our health service is superior compared to many countries, our doctors are well trained and experts in their fields and our prices are advantageous. We have guests who come to receive a wide range of health services, from aesthetic surgery to cancer treatment and organ transplantation." Turkmen explains that Antwell offers a unique service, with its disabled-friendly architecture, personal kitchens in all apartments, walking trails, the garden, and terrace. She also underlines that Antwell provides a very important benefit option for people who prefer to stay safe and healthy, as there is a health unit connected to the guest rooms. Antwell, which started to receive its first guests as of 2020, aims to be a new living space for elderly people with its short and long-term accommodation options, as well as serving domestic and foreign guests coming to Istanbul for health purposes.