Dr. Banu Büyükçayır is one of our residents enjoying Antteras with her beautiful family of three children. As we got to know Büyükçayır better, she says " As soon as you enter the site, the scents of olive and cherry trees, rosemary, and laurel greet you. I feel like I live on the Aegean coast."
Dr. Banu Büyükçayır, a resident of Antteras, is 52 years old and she is an OB-GYN. Her husband is also a doctor and they work together at their clinic. As a family with three children, they see many advantages living in Antteras. When speaking about Antteras, where they moved about a year and a half ago, Banu says "This place does not tire you at all, I feel like I'm living on the Aegean coast." She explains how Ant Yapı offers its residents a special lifestyle: "You feel safe… you know management is always with you. People are working hard day and night to ensure there is a continuity of quality service."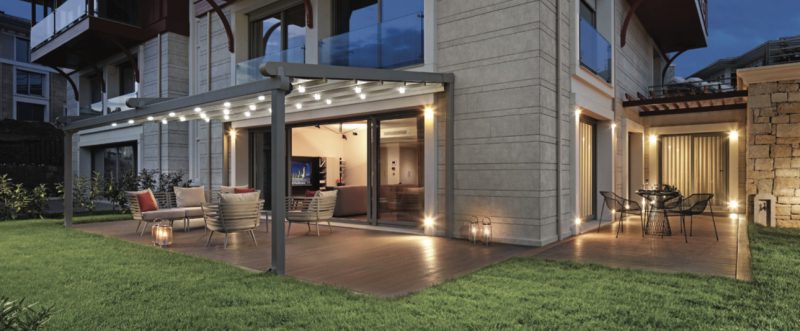 Dr. Banu Büyükçayır pointed out her happiness about meeting Mehmet Okay, our Chairman of the Board: "It was very important for us to be able to meet Mr. Okay. His approach to people, his gentle attitude, his caring about everyone's well-being, his empathy towards others, his easy-going attitude, and his modesty impressed us." So, let's get to know our neighbor better…
Can you talk a little bit about yourself?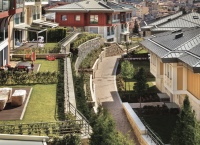 I was born in Diyarbakır in 1969. I am originally from Thrace. After completing my high school education in Ankara Atatürk High School and İzmir Karşıyaka High School, I studied at the Marmara University Faculty of Medicine in English. After graduating from the faculty with a degree, I began working as a gynecologist and obstetrician. I am married and a mother of two daughters and a son.
Your husband is also a doctor and you founded Jineplast Hospital in 2014. So, how do you spend your time when you are not working?
I love reading books, trying different recipes, watching videos of wooden house making and sailing cruises. We enjoy walking here as a family, playing tennis and volleyball. We spend time on the terrace whenever we can, sipping our teas or coffees. It is also very nice to have a cafeteria service here and before the pandemic, we used to hold small meetings and celebrations there. I think the Anterras management has provided us with the best place for all our activities.
When did you start living in Antteras?
We moved in September 2019. We used to live in an apartment duplex in Çengelköy. We were looking for a place with a garden for ourselves as our children wanted one. We knew the area very well and did not want to be too far away from the schools. We were also following the Antteras development and thought it would be very suitable for our family, so we moved in.
Is this your first time buying a house from Ant Yapı?
Yes, but if I am going to buy a house again, I would like to buy it from Ant Yapı.
What is it like to live here, can you describe it a little?
This site does not tire you, from the moment I enter the site, I feel as if I live on the Aegean coast. The scents of olive and cherry trees, rosemary, and laurel welcome you. It offers a warm and high-quality environment for families with its spectacular Bosphorus view terrace, social facilities, tennis, basketball, and volleyball courts, indoor sports hall, indoor-outdoor swimming pools, children's playground, camellia plants, and landscape architecture. The solution-oriented approach of both the management and the friendly, hardworking, and tireless staff make life easier here. There is a calm environment. The neighborhood is very nice and everyone is very kind and thoughtful towards each other.
What is Antteras like for families with children? What are the advantages of living here, especially when children have needed to stay at home for long hours due to the pandemic?
Yes, we feel very lucky to live here as a family with children. The place we live in has contributed greatly to our ability to get through these difficult times more easily. Living on the ground floor has been very advantageous for us and the playgrounds are suitable for social distancing, as there is plenty of space for the children.
I miss hugging my dearest ones
Among the cities you have traveled to so far, which one has been your favorite?
İzmir, Çeşme is one of my favorite places in Turkey, in particular, Ant Yapı's Port Alaçatı project grabbed our attention due to its concept. If we are talking about abroad, I would say Rome. The city smells like history and each stone has a different story. When the pandemic is over, I want to visit Scotland the most.
What has been the thing you missed the most during this pandemic?
What I miss the most of course is to be able to hug my loved ones when I wish, to visit my family, and to walk around the streets comfortably.
What is your hope for the future?
My hope is to stay healthy, I wish this for myself, my family, and everyone. I don't have a big plan for now, but if I did, I'd like to buy a house in the Bodrum Anthaven development.