It has been 30 years since January 1991, when a couple of friends decided to leave their professional lives to become entrepreneurs.
Thanks to the late Prime Minister Turgut Özal's decision to abandon the policies that guided the preservation of the status quo and adopt new economic and international policies, supporting entrepreneurship, and opening versatile business opportunities all over the world. We believe these initiatives were a great step in the name of Atatürk and his goal of reaching the level of other contemporary societies.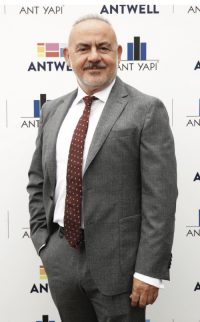 The situation in those days offered great opportunities to Turkey. The restructuring of our powerful neighbor Russia (Glasnost-Perestroika) and the independence of the Turkic Republics especially brought many opportunities both economically and socially.
Inspired by these policies and trusting our almost decade of business experience, we launched "Ant İnşaat-Turizm İhracat- İthalat San. ve Tic. Ltd. Şti.", with our youthful excitement and our desire to do good both at home and abroad – In those years, it was on-trend for companies to keep all the branches of their business in the company's title. During our restructuring process in 2000, we decided to change our name to "Ant Yapı Sanayi ve Ticaret A.Ş."
I would like to underline that our name "ANT" comes from our student oath which is "Andımız" in Turkish and its motto is "I am a Turk, honest and hardworking", it is also inspired by the idea of working hard in an organized way like an ant. In this context, we set off to engage in business both in Turkey and abroad. Our story, which initially started with imports and exports from America to Russia and some construction-contracting, is now celebrating its 30th year with numerous international successes.
To sum up these 30 years, we have always tried to do good by thinking that both this country and its people deserve the best; Ant Yapı has ranked among the top 80 in the top 250 contractors, we have realized construction contracting services of more than 10 million square meters, we reached an annual endorsement of a billion dollars, the number of employees has exceeded 10,000, and we have become a group that operates in a variety of sectors from construction to tourism, from industry to business.
We would like to share some parts of our 30-year story and enjoy some nostalgia with you, much of which has been very exciting, while at the same time having great struggles due to the many political, social, and economic events over the years. We have shared these stories with you in our EQ magazine, albeit briefly, and we will continue to share them in our upcoming issues this year.
Finally, we would like to offer our endless gratitude to all our 'Ant Yapı friends' who have entered, supported, and touched our lives throughout this long journey, as well as the 'Ant Yapı team' who have worked devotedly like an ant. We want to continue our journey by thinking positively and constructively in all circumstances while continuing to be grateful and maintaining our direction in the name of continuity and sustainability. We hope to see another healthy and successful 30 years together with you.
On behalf of the Ant Yapı Board of Directors,
Mehmet Okay
Board Member