We have started work on the new terminal building at the International Tolmaçevo Airport in Novosibirsk, the largest city in Siberian Region. The project will be completed in 2022.
Novosibirsk, Russia's third-largest city, is also considered the center of the Siberian region. Tolmaçevo Airport is of great importance in the region with an annual passenger capacity of 7.5 million and as an international transfer centre. The project at the International Tolmaçevo Airport will cost 230 million dollars, consists of a total closed area of 56 thousand square meters, including the existing terminal building and the new terminal construction. The delivery date of the project, which we started in October, will be 2022.
Tolmaçevo is not the first airport project we have fulfilled in Russia. In 2018, we completed the construction of the second terminal building of the Domodedovo International Airport, the second-largest airport in Russia, that carries 35% of Moscow's air traffic. Today in Russia, many important projects have the Ant Yapı signature, including the tallest building in Europe, OKO Towers, Sochi Olympic Village, Domodedovo Airport Terminal 2 Building, IQ Quarter Moscow City Terminal Building, Action 44 Hotel, Capital Towers, Yasniy Life Complex, and the Zolotoy Ostrov Multifunction Life Complex.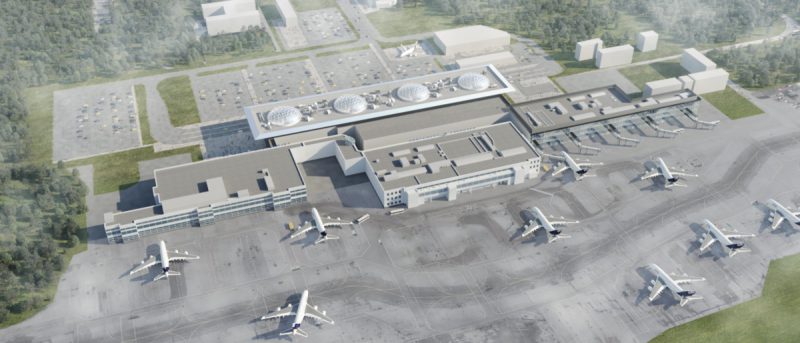 10 million square meters
Ant Yapı is one of the leading companies investing in Russia, our Chairman of the Board Mehmet Okay said, "In addition to our general contracting services in Russia, we continue with our investment activities with no decrease in our momentum. We currently have more than 20 projects in Russia, some of which are about to be completed. In addition to our investments in Turkey, we work extensively in Russia, America, and the UK, and we continue to search for new markets. As one of the top 100 contractors doing business internationally, by constructing a wide variety of buildings such as residences, hotels, schools, Olympic housing, offices, shopping, culture, entertainment, and sports centers in many countries, including Russia, the UK, and the USA, we have built projects totalling an area of ​​10 million square meters so far."
Explaining the reason behind the successful realization of the projects and commitments of Ant Yapı, which was established in 1991, 'with its approach including positive thinking, a professional team, the importance it attaches to modern technology and follow-up innovations,' Mehmet Okay ended by saying, "We continue to serve by producing the most suitable solutions, in line with the needs of our Ant Yapı friends, whom we see as business partners, with high-IQ contracting-based works abroad, and in investment projects with high IQ and EQ at home."
Project Tag
PROJECT: International Tolmaçevo Airport New Terminal Building Construction
COUNTRY: Russia
REGION: Novosibirsk
START DATE: September 2020 first stage began
COMPLETION DATE: 2022
TOTAL SIZE: 56,000 square meters
CAPACITY: 7,500,000 passengers per year
INVESTMENT COST: 230,000,000 US dollars
IMPORTANT: Novosibirsk, Russia's third-largest city, is also the centre of the Siberian region. The international airport is of great importance here as it is a transfer centre.
Some of Our Investments in Russia
Domodedovo Airport, Terminal 2 Building
IQ Quarter Moscow City, Terminal Building
Okko Towers
Sochi Olympic Village
Action 44, Hotel and Office Project
Capital Towers
Yasniy, Complex of Life
Zolotoy Ostrov, Multifunctional Living Complex