At Ant Yapı, we have experienced another moment of international pride. We ranked 80th in the "World's Top 250 International Contractors" list announced by ENR, the prestigious construction industry magazine.
As Ant Yapı, we ranked 80th in the "World's Top 250 International Contractors" list published annually by the American ENR (Engineering News-Record) magazine. Hence, we have climbed six places up the list from where we were listed 86th last year. Up to now, we have carried out projects totalling over 10 million square meters in various countries around the world, in particular projects in Turkey, England, Russia, and the USA. With the success of our global projects, we are proud to have been on the ENR list for more than 10 years and to be climbing the rankings every year.
ENR, a weekly publication providing news, analysis, data, and opinions for the construction industry, is considered one of the industry's most authoritative publications in the world. Published on August 20, 2020 there are 44 companies from Turkey on the list, prepared based on the revenues of contractors from their overseas activities this year. In 2020 as in previous years our country maintains its second place, in terms of the total number of companies. The country that ranks first in the list according to the number of companies is the People's Republic of China, with 74 companies.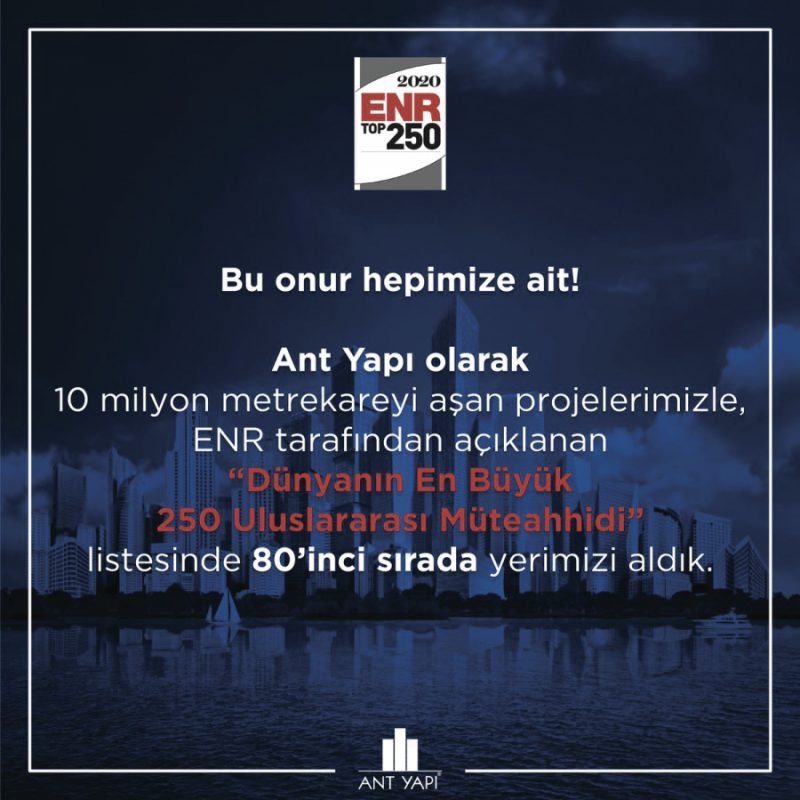 The success of the Ant Yapı Family
The 44 Turkish companies on the list have a 4.6% share of the international market, with a total of $21.6 billion. Turkey, which ranks seventh in the 2020 list according to international revenues, has preserved its place from the previous year. With this ranking, Turkey is ahead of Italy, England, and Japan. China comes in first with 120 billion dollars.
Each member of the Ant Yapı family has contributed to the ongoing success of our company, which has been ranked among the world's largest construction companies in the ENR 250 list for more than 10 years. On this occasion, we would like to thank our colleagues from all over the world for their efforts.