After a year in the shadow of the pandemic, one of the most radical changes we have experienced is the transition of corporate companies to a distance working system. Antplato which consists of modular and flexible offices is available to help with home-office options and offices which are shaped according to ones needs.
Aside from COVID-19, the transition to a distance working system has been the biggest change in 2020. Tech companies, the advertising industry, teachers, bankers, journalists, financial experts, psychologists and many more professionals have been working from home since March last year. At the end of a year in the shadow of the pandemic, leading companies began to announce that they had permanently switched to a distance working system. According to the Turkish Business Life and Working Areas Report 52% of people who work from home think that although they have adapted to the process rapidly, working from home affects business life negatively. In summary, employees want to go to the office on certain days to be a part of the corporate culture, socialize and learn new things.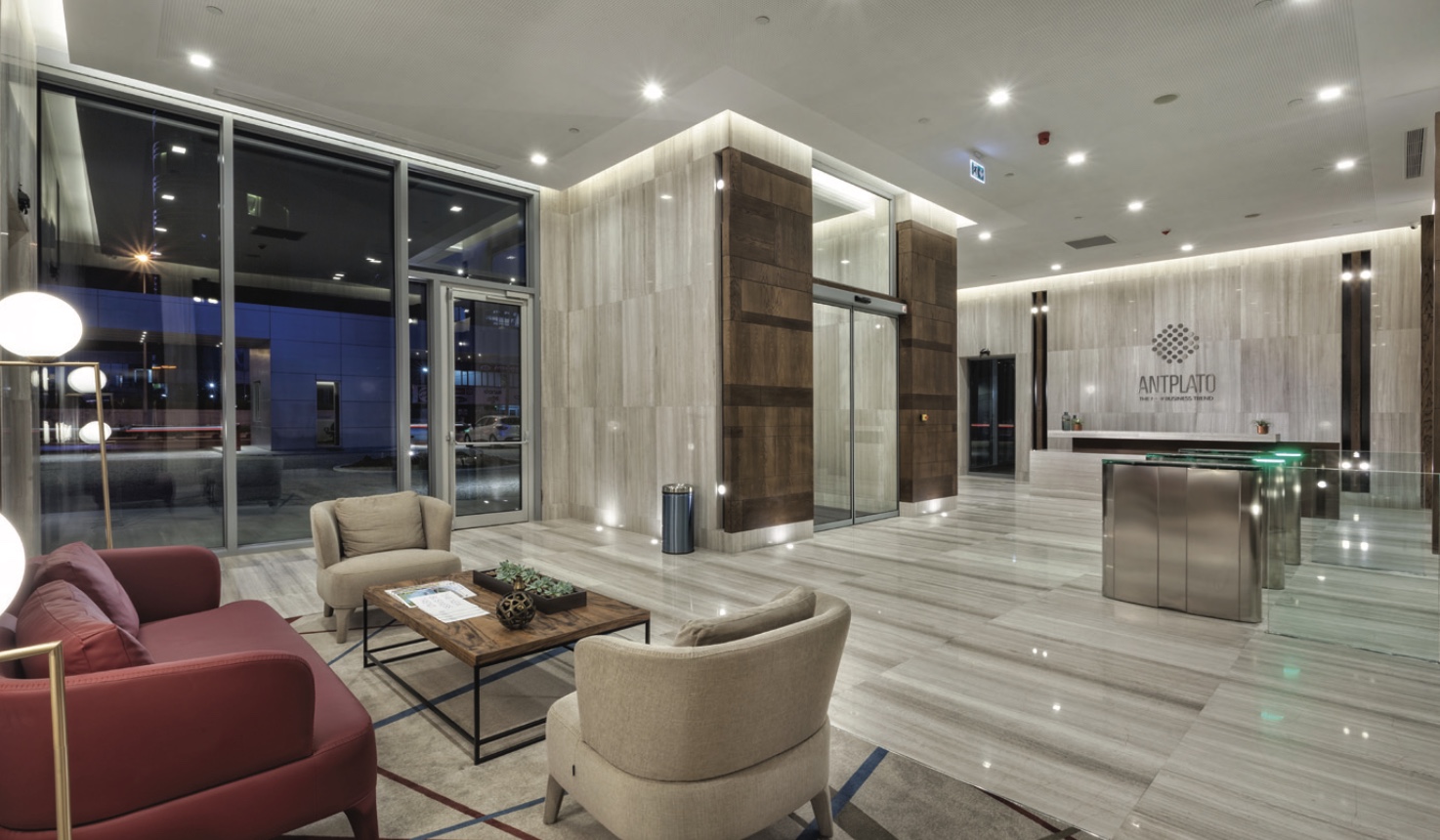 180 modular unit
Do we have an opportunity to go back to our old offices? According to the same report, those who have worked from home for a year demand a large, simple, spacious office, with daylight, and want to increase the sense of belonging by involving elements of their private life into their work environment like having green plants, aquariums and keeping pets etc. This is where Antplato, which has home-offices and modular offices to accommodate the changing number of employees, takes the stage.
Antplato, the modern office project by Ant Yapı is located over an area of 35,000 square meters on Basın Ekspres Highway and has continuous views and bright interior spaces with its 10,000 m2 glass curtain-wall. The project has the technological infrastructure of an office building but with the comfort of a residence. The project consists of 25 floors and 180 modular units. Antplato offices can be opened up to 1,032 m2 thanks to its modular and flexible floor plan and used as an office or home-office according to one's personal preference. The project offers special areas where electrical and hybrid vehicles can be charged. In addition, Ant Yapı provides office design services and rental services for investors.
Mehmet Okay, the Chairman of Ant Yapı says: "Functionality alone is not enough in today's office design anymore and there should be some criteria for these places where we spend most of our time. The happiness of your office workers and their efficiency should be considered through environmentally friendly, spacious offices."
WHAT IS IN ANTPLATO?
On the ground floor there are 4 stores including terraces.
Antplato consists of 25 floors and 180 modular units. They can be opened up thanks to its modular and flexible floor plan and used as an office or home-office according to one's personal preference.
The project, which aims to eliminate visual pollution and untidiness and lighten your burden, has large archives available. The archives and archiving systems meet a variety of needs, with a flexible and modular structure, you can use either a cabinet or an entire archive room.
You can use the unit as a home-office bringing a cozy home environment to your workplace.
The project is Shell & Core. You can design your offices reflecting your own corporate style or, if you wish, Antplato will help you in terms of interior.
The project provides you with a parking space reserved for your car helping you save time in the busy city life. It also offers special areas where electrical and hybrid vehicles can be charged.
The office infrastructure is designed by taking into consideration every single detail, including the offer of common halls and a reception service. With the common halls reserved for your personnel such as a courier and driver, it is aimed to ensure the comfort of all your employees.
You can also be an office investor in Ant Yapı. The project brings you together with a reliable and professional mediator/agent that you can trust for the follow-up and management of legal and official business. Thus, finding a tenant for your office, tracking financial issues in the process, and the selling and leasing processes, can be carried out by a reliable and professional agent.
In addition, Antplato is a Leed Gold candidate within the scope of LEED, an internationally respected green building environmental impact assessment methodology by US Green Building Council (USGBC)