Constructing the tallest building in Europe, the tallest towers in Istanbul … to be among the top 100 construction companies in the world … developing Turkey's most innovative projects … raising the standards with each project … Ant Yapı has achieved many great successes in just 30 years, and we are preparing for even bigger projects and to build the future, by combining our young and dynamic structure with our experience and understanding of quality. Over the next 30 years, we hope that together we will have many more success stories that will carry our signature.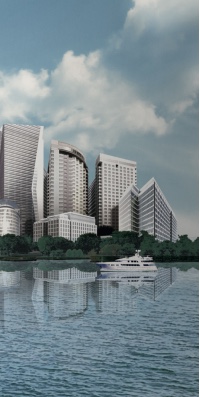 In 1991, when four young friends left their corporate lives and decided to establish a new company that would support their vision, they made a promise to work hard, do good work, and be very successful. Inspired by the motto of their student oath "I am a Turk, honest and hardworking", they chose the word 'ant' for their company name, the symbol of hard work. Ant Yapı has remained true to its oath by working as hard as an ant over its 30-year history. Around this concept Ant Yapı has today completed 10 million square meters of construction in 7 different countries, laying the foundations for one of the world's largest contracting companies.
First international stop: Russia!
Ant Yapı has implemented international projects since its establishment, first entering the Russian market in 1991. Our company has realized the most prestigious projects in the country. You can see Ant Yapı's signature on many residences and offices, as well as OKO Towers in Moscow, which was once the tallest building in Europe, the Olympic Village in Sochi, Domodedovo Airport Terminal 2 and Shopping Center, IQ – Quarter Moscow City Central Terminal, and Capital Hill Residence designed by Zaha Hadid. Among our 18 ongoing projects in Russia, are important projects such as the Bvlgari Hotels & Resorts Luxury Hotel Complex, Capital Towers, Action 44 Office & Hotel Complex, and International Tolmaçevo Airport. Poklonnaya 9 is Ant Yapı's most recent luxury housing project and has already been honored with the International Excellence Award. The project is due for completion in 2022. The project stands out among its competitors in the city with its 32-story residential area, luxurious design, and high-level of comfort.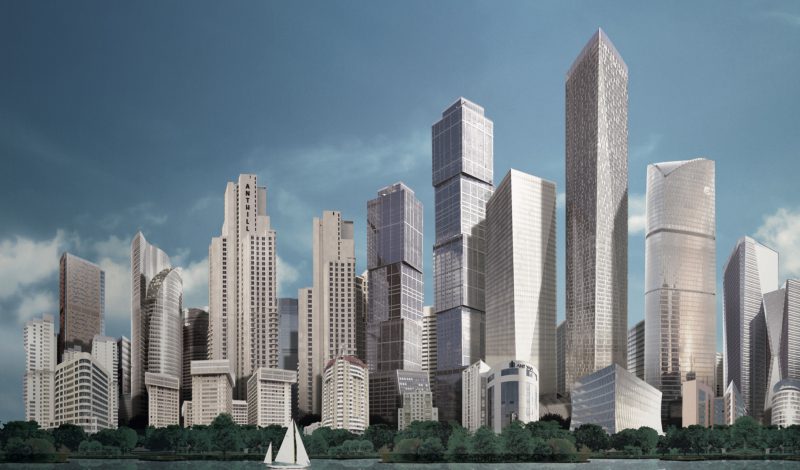 We are in the real estate capitals
Another market that we deeply care about is the United Kingdom. Two years ago, to represent us as both a contractor and a developer we founded our own office in London, one of the most significant capitals in the real estate market that attracts investors from all over the world. Although it was challenging to comply with the strict protection laws of the UK and for our employees to adapt to a new country, we have successfully carried out our work there. Over the past years, we have completed 20-22 Eaton Place housing project, Belgravia Gate, and the Edwardian Harcourt House project. The construction of Apex House is ongoing, and we recently signed the contract for Park Modern, our sixth project in London. A £100 million project Park Modern has drawn attention as the largest single-stage construction deal contracted in London last year.
We are moving fast and confidently in the US market too, a market we have recently moved into. We have also taken steps on new projects in Miami and New York cities as part of our strategy to move towards the West. We have undertaken the main contractor role for the restoration of The Crown Building, an icon in New York, described as 'the crown of Manhattan', transforming the building into a hotel and residence. The Crown Building, whose construction investment cost is around 300 million dollars will be completed and delivered within 29 months. At the same time, the Missoni Baia project is in progress in Florida, and we are negotiating for new housing projects in both New York and Miami.
Velocity, confidence, and quality
Our Chairman Mehmet Okay says that Ant Yapı is now a company which has become a brand associated with high-quality work both in Turkey and in countries like the U.S.A, the U.K, and Russia. Stating that the company will be even more popular in the world market with their upcoming projects, Okay explains the reasons for their success in the international arena as follows:
"Competition in the sector is increasing daily. We believe that three major factors are very important for international business: The ability of the construction company to make quick decisions, its ability to garner confidence, and its quality of work. As well as these, the location of a project, its content, and what it contributes to the local people are also valuable. Companies that demonstrate these characteristics are successful abroad and do well in the markets where they exist. At Ant Yapı, speed, trust, quality, hard work, and the happiness of our stakeholders are crucial for us. For this reason, we have continued our international activities without slowing down, even though through this pandemic all the routines in the construction sector have been disrupted during the 'new normal'. Our competitive pricing, quality, and our ability to meet deadlines for our projects have enabled us to be a global player. We currently have 30 projects abroad with a total annual turnover of 1 billion dollars and exceeding a cost of a million dollars, together with our ongoing business in Russia, the U.K, and the U.S.A."
As Cengiz Karaduman, one of our founding partners started in the first issue of our magazine years ago: "Ant Yapı is never idle. We always keep our promises. This means that we work day and night. We have built various buildings such as residences, hotels, offices, malls, cultural and sports centers, and airports in many countries, especially in Russia and the Turkic Republics, and more recently in the UK and USA. Our goal is to continue to grow, without sacrificing quality and preserving our methods."
Turkey's Leading Projects
Many exciting projects have been implemented successfully outside Turkey however, Ant Yapı has also made its name with outstanding projects in Turkey – Antasya Residence, Anthill Residence, Antplato, Antteras, Antwell, Anthaven. Based on a healthy lifestyle, Antwell Life Care Residence is a first for Turkey and then there is Anthaven, located in Aspat, one of the most beautiful bays in Bodrum. Anthaven is a special living space with its comfortable and peaceful residences, a premium hotel to be realized in cooperation with the Radisson Group, cafes, boutiques, spa, markets, and restaurants in the town square. Of course, these special developments become even more beautiful with Ant Yapı's friends and our residents who have added to the charm and quality of the area. The most special feature of every project is that the Ant Yapı management meets the buyer personally, the key is not handed over to anyone without a meeting. For 30 years, every friend of Ant Yapı has received their keys from Mehmet Okay directly, without a representative.
We will continue to grow 10 percent every year
Mehmet Okay explains Ant Yapı's 2021 goals as, "We continue growing by increasing our international targets by 10% each year and in Turkey we are planning to build a total of 500 residences, 200 in Bodrum and 300 in Istanbul." Stating that Ant Yapı will always protect its claim, our President says, "We are constructing buildings with a high EQ, but more importantly, we believe in a philosophy that claims it is better to choose the right neighbors rather than the right house because we dream of a world where friendships are passed down from generation to generation. We know that sustainability is the most important issue for the future, and we are working to achieve this."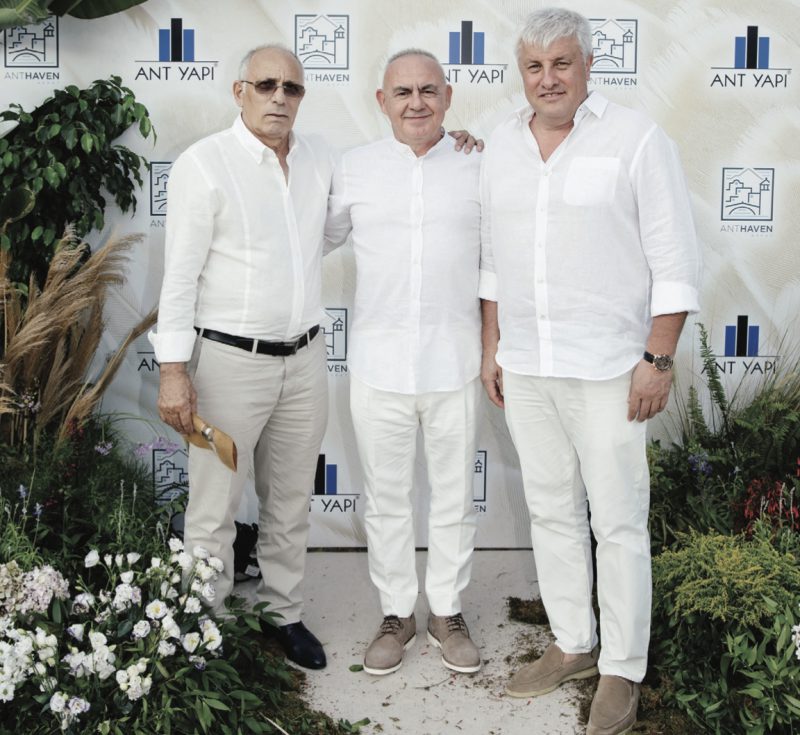 Path to Success
With a total of 10 million m2 of construction realized, Ant Yapi is amongst the top 100 construction companies in the world. Flawless teamwork, respect, and friendship are the foundations of this success. Kadir Tokman, one of our partners, explained in the first issue of our magazine the secret of our firm, which has been working in harmony for 30 years despite its multi-partner structure: "The harmony between partners comes from knowing each other. We never lose our respect. " Another of our partners, Hasan Yılmaz, added, "I don't believe we can act together if there is no friendship between us. The different opinions of the Board of Directors enable us to achieve the highest level and quality in what we do. However, at the most fundamental level, we build what we want to have in our own houses, and we agree with this principle. This sincerity makes our stakeholders trust us." Stating that the labor, power, and energy of the employees are the basis of the success that Ant Yapı has achieved today, Kadir Tokman says, "The more employees we take on, the happier it makes me, as, our priority is always employee satisfaction and delivering the projects in the time we promise, for our customers' satisfaction. By focusing on these, we will continue to achieve success in the years ahead."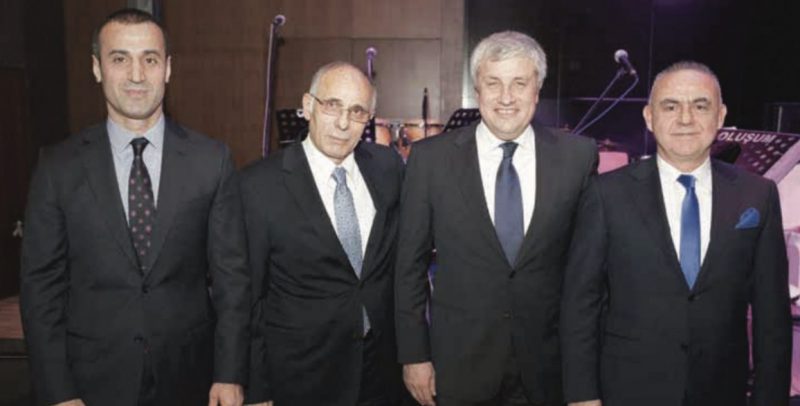 Professional work with an amateur spirit
Ali Atay, Financial and Administrative Manager
Ant Yapı takes its place amongst the world's 100 largest international contractor companies and has become a global firm that is recognized for its quality in Turkey and Russia. I have also been with Ant Yapı from the beginning. I was previously working in another company and that company was going move to Adapazarı, so when I received an offer from Ant Yapı, I didn't even have to think about it. I am so happy that I chose to work here. During my journey here, I have enjoyed a career full of both joy and challenges. Ant Yapı and I have both experienced fast changes, and I haven't even noticed how fast the time has passed.
There has been incredible development between the financial structure of the work we did in the past and the work we are currently undertaking. Turkey and Russia were the only markets we were doing business in, but now we are active in various countries like the US, UK, and Turkmenistan. Every day we continue to focus our understanding of quality, responsibility towards our customers, and their satisfaction as this part of our vision has remained the same since the beginning. We build robust, secure, and technological structures without sacrificing quality, with a successful management understanding, and devoted team efforts. We work with a professional approach without losing our amateur enthusiasm. Of course, the fact that all team members feel like a part of this family is one of the key factors behind this success.
The secret of our growth is community synergy
Ayhan Sırtıoğlu, Domestic Projects Coordinator
I have been working at Ant Yapı from the beginning. Throughout the years, we have implemented more conscious and organized changes. We have made investments and taken action on Occupational Health and Safety, we have improved the project and proposal processes, the monitoring and control mechanisms for manufacturing improvements, in the selection of materials and applicators and we have matured the support unit after delivery. As our workload has increased, the number of our employees has increased with it and we have made the maximum effort to ensure the continuity of our employees. The vision of the company partners throughout this process has been clear.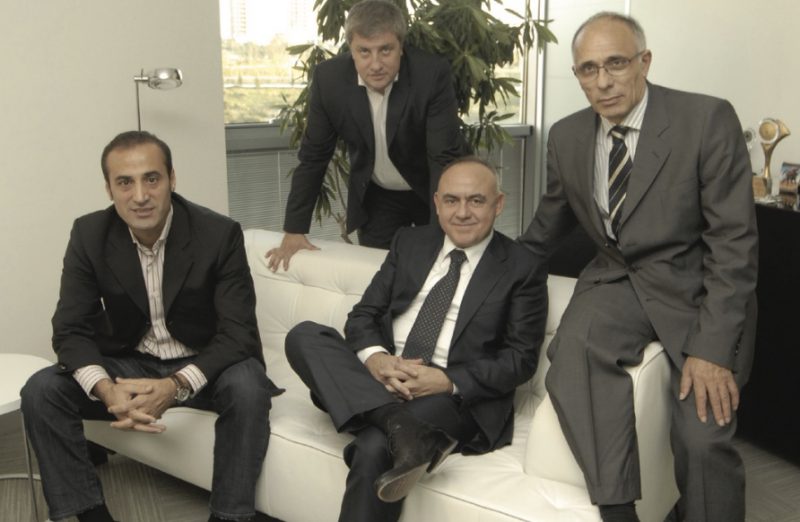 The Ant Yapı family is one with its employees, suppliers, subcontractors, employers, and customers, and we are delighted that even newcomers immediately feel part of the family. There is no distinction at any level between a recruit and a 10-year employee, the accomplishments are important here. This encourages each member of our family to make a positive and constructive contribution to the progress of Ant Yapı. For this reason, Ant Yapı will continue hand-in-hand with all its stakeholders with its honest, hardworking, high-quality, competitive, and inclusive identity. The secret of our continuous rise in the construction industry, which is a tough business, is the synergy of this community.
There is nothing we cannot do
Gürhan Cihan, Purchasing Manager
I have been a member of the Ant Yapı family from the beginning. I remember those years just like yesterday, as an idealistic young man who was about to start his career, I was thinking, 'How nice it would be to grow with a company with an important sense of belonging'. Indeed, I was lucky enough to find such a company and here we are today. Over the past 28 years, there has always been an effort and hard work. When I look back, I feel very lucky, as the greatest chance in my career was to set off with the right people in the right place in 1993. The excitement in Ant Yapı from that first day has never decreased and it has always been a priority to do our job right and with integrity.
Although situations have changed over the years, working hard, producing, and being reliable have been key features of the Ant Yapı family that I am proud of. These years we have worked together and all these experiences have made me very grateful. Over the years we have always had our goals, and fortunately, we have continued to achieve them. In a professional sense, there is nothing we cannot do anywhere in the world. This knowledge, experience, and ambition will continue to be an advantage for Ant Yapı over its competitors. 
Even though we have grown up, we haven't lost the family environment
Cemal Durak, Foreign Staff Chief
I have been working at Ant Yapı from the beginning and I have worked with all of our board members before. I was very happy to join and have the opportunity to work with people I have worked with before. We began this journey in a warm family environment with a only few colleagues. Over the years, our family has grown, but we have continued our journey with the same energy. This is a firm that does its job well and has a clear place in the sector. There is much joy from working in a company that has proven itself. Ant Yapı is a company that has grown by establishing a dialogue with its employees, under the leadership of its expert management team. Doing good is in our soul and I am delighted that our company has existed for so many years without compromising its values.
We are connected with our hearts
İsmet Birinci, Managing Partner
When we started, Ant Yapı was a small but energetic company. At that time, the Russian market had the potential for lots of opportunities. We came together as a whole team and to this day have continued to come together to communicate the work order and vision that we created under the leadership of Mr. Kadir. We were very young then, however, thanks to Mr. Kadir's prudence he expertly analyzed the Russian market and due to this and Mr. Kadir always being one with his team, we have contributed to the growth of the company. We are currently among the top 80 largest construction companies in the world and it is rewarding to be contributing to this success.
There is sincerity in the soul of Ant Yapı, establishing an honest relationship with the whole team, where everyone at all levels is concerned about their work and trying to bring out the best in each other, this makes us different. If you are a loyal, sincere person who can solve problems quickly, employers will trust you and they will support you. For this reason, regardless if it is the manager, project manager, coordinator, or office worker, we are all connected and genuine with each other.
30 years at Ant Yapı means a lot for one's career and personal life because we grew up with Ant Yapı. We worked hard together, with determination, and have arrived at this day. During the pandemic, everyone has lost a lot, but we remained standing and I can even say that we have become stronger. We have now started build-and-sell in Moscow, which has added different energy and perspective to our company. In the coming years, we will continue to grow with steady strides without hesitation on our projects.
Sincerity and professionalism make the difference
Hakan Saraç, Architectural Office Chief, Master Architect
I started working with Ant Yapı in Moscow 23 years ago. Previously, I had five years of project office experience, and I was excited to be in a different field and going abroad for the first time. My excitement turned into motivation from the first day, as I saw the energy in Ant Yapı and what we can do to complement each other. Can a construction company have a soul? I have seen that it can. I think sincerity and synergy are the most important elements that define this spirit.
30 years is easy to say; It is a great achievement for a construction company to continue without breaking its stride and I am happy to have been involved for most of this time. Our colleagues that we have taken this journey with together, have welcomed newcomers, witnessed breakups, births, deaths, and some bittersweet memories; together we are really like a family. If we can continue work on every new project with the excitement of our first day, then there must be something here that keeps our energy alive and nourishes us.
This effort, which was put into practice with the excitement and enthusiastic spirit of our first day, without losing any professionalism, has brought Ant Yapı to the place we are all proud to be. Our place in the international arena, in terms of contracting, is clear, but I believe the most important thing is the trustworthy position we have in the eyes of our consumers, in other words: Ant Yapı's friends. Ant Yapı owes this to its sincerity and its professional attitude, standing behind its work and its energy, and to the devoted efforts of its employees, especially its founding partners. What really makes the difference is that it has created and preserved this synergy with sincerity and professionalism.
We owe our reputation to the trust we create
Ertan Beyaz, Russia Representative, and International Projects General Coordinator
In the first days of my job, I felt that I joined a firm that was determined to do business in Russia, was open to development, and was trying to grow. As a company, we have worked with great devotion and an amateur spirit over the years. One of the top 100 construction companies in the world, we can summarize the elements that differentiate Ant Yapı as our management style, our skill and experience, our solidarity and team spirit, our long-time employees, and our newly recruited employees all working in harmony. This is an environment for employees who are open to development and change, who aim for sustainable success and growth, who have determination, controlled ambition, dedication, and feel they are a part of the Ant Yapı family.
In the eyes of its consumers and employees, Ant Yapı owes its image and reputation to the trust it creates. The reputation of Ant Yapı in the sector is a proven, successful construction company that finishes its work on time and sometimes even before, does quality work, and can solve any problems through dialogue and mutual agreement. In addition to this, I think that Ant Yapı's ability to do business, its ability to make quick decisions and to act fast, in other words, its agility, have contributed greatly to this success. In its 30th year, Ant Yapı is confident that we are a company that has been crowned with years of success from the dedicated efforts, moving forward by improving and renewing itself every day, and looking to the future with hope.
We create a life rather than a space
Hülya Torunoğlu, Architectural Office Chief
This is my 21st year at Ant Yapı and of course, since then our experience has increased and grown. Through these experiences, I can see what is important; It is the bond established with Ant Yapı's friends, whose numbers continue to increase. The intersection of their dreams, with Ant Yapı's vision and imagination, and a shared excitement and passion we feel while making these dreams a reality is precious. In fact, I believe this is an important factor in the continuity of our success and motivation.
Ant Yapı is a company that prioritizes quality, is open to innovations, and acts with the awareness that it is creating a lifestyle rather than just a living space for people. We have a user-oriented approach, and this approach has not changed since the first day. Therefore, it is the human and life-oriented perspective that constitutes the spirit of Ant Yapı. In parallel with this approach, aiming to realize projects that are compatible and even integrated with the environment and nature, are important factors that have established the image of Ant Yapı. For many years, Ant Yapı has been respected for its effort to always do better without compromising its principles under any circumstances, therefore all its stakeholders trust Ant Yapı.
Over the years I feel that Ant Yapı has built itself as well as millions of square meters. It makes me proud to be part of the foundation of this company. Our projects abroad showcase the capacity of Ant Yapı, and our business and reputation in Turkey demonstrate the quality of Ant Yapı. The difference with Ant Yapı is that we know what we do well, and we are hardworking and dedicated.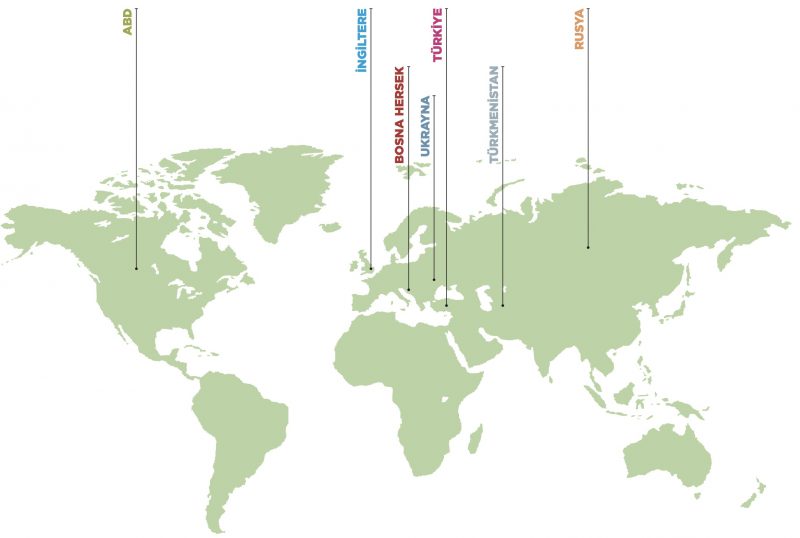 ANT YAPI IN THE WORLD
For the last 10 years, Ant Yapı has been among the industry leaders in the "World's Top 250 International Contractors" list published annually by the American ENR (Engineering News-Record) magazine, one of the most prestigious publications in the construction industry. We owe our place among the top 100 companies to the projects we have implemented around the world that demonstrate our commitment to quality, are contemporary and are managed with optimum costs, and a timely delivery principle. At Ant Yapı, we are proud and happy each year to continue to climb higher on the list, where we are currently ranked 80th.
Turkey
Reconstructed and entered the market in 2000, Ant Yapı has implemented many contracts and investment projects in a variety of works to date. Ant Yapı, started off with the slogan of producing places with a high EQ, and has put its signature on houses where everyone wants to live, offices where everyone wants to work, and hotels where everyone desires to stay.
Russia
Since 1991, we have implemented projects such as residences, hotels, offices, hospitals, schools, and airports, as well as and business, entertainment, cultural, and shopping centers, in many cities such as Moskow,  St. Petersburg, and Perm.
UK
We have been operating in the UK since 2015 through our group company called Ant Yapı (UK) Limited, headquartered in London. In the near future by including project development in our superstructure contracting agreements, we are planning to move our investments in Turkey to the UK too.
US
In 2016 we established the company Ant Yapi US Holding Corp. and we started our activities in various states. Our teams continue to work in offices and subsidiaries established separately for each state ('Ant Yapi Florida LLC' for Miami and 'Ant Yapi New York LLC' for New York).