New Year's tables are prepared with best wishes, bringing loved ones and families together, to make happy memories. We have prepared delicious menus for you with the hope that the taste, abundance, and the happiness we achieve on New Year's Eve will spread throughout the year. ÖZDE ETLİ
TURKEY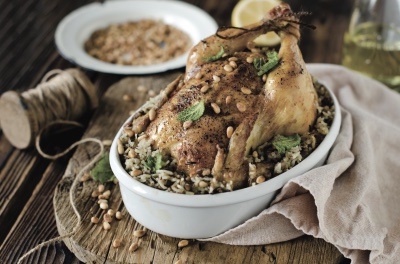 OVEN ROASTED CHICKEN WITH SEASONED RICE
INGREDIENTS:
1 large chicken.
For the seasoned rice: 2 tablespoons butter, 2 onions, 1.5 cups of rice, 1.5 tablespoons of peanuts, 1 tablespoon of currants, 1 teaspoon of cinnamon, 1 teaspoon of granulated sugar, 1 teaspoon allspice, 1 teaspoon black pepper, 1 teaspoon salt, 2 cups chicken stock.
For the chicken: 1 tablespoon butter, 1 teaspoon lemon juice, 1 teaspoon ground red pepper, 1 pinch parsley, 1 pinch fresh mint, 1 lemon, a pinch of rosemary.
INSTRUCTIONS:
Fry the chopped onions in butter until they become transparent. The peanuts are added and roasted until they are coloured. Then the rice is added and mixed until it becomes translucent. Add currants, cinnamon, granulated sugar, allspice, black pepper, salt, and the chicken broth, cook until it evaporates. This cooked rice is stuffed into the chicken; its legs are tied with a string. In a separate bowl put the melted butter, lemon juice, and powdered red pepper, pour it over the chicken. It is placed on a bed made with the lemon slices and rosemary. Cook it for 40 minutes at 180 degrees. It is served garnished with parsley or mint leaves.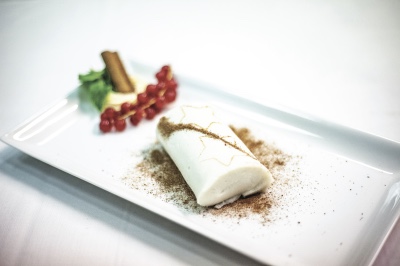 CHICKEN BREAST PUDDING
INGREDIENTS:
1-liter milk, ½ cup of rice flour, ½ cup corn-starch, 1 cup of granulated sugar, 1 pack of vanilla, 1 chicken breast, 50 g butter.
INSTRUCTIONS:
The chicken breast is boiled, finely chopped, and kept in cold water. It is kept in the refrigerator overnight, changing the water from time to time. Rice flour, starch, sugar, vanilla, and milk are added to a pot. This mixture is whisked over a medium heat and cooked until it reaches the consistency of a pudding. Butter is added and whisked with a mixer for 5 minutes after it is removed from the heat. The chicken meat is squeezed dry and added to the mixture. Ensure it is mixed well with a wooden spoon. Pour it into a glass container that has been previously rinsed and wetted. It is first cooled at room temperature, then in the refrigerator for 4-5 hours. It is served with cinnamon sprinkled on it.
RUSSIA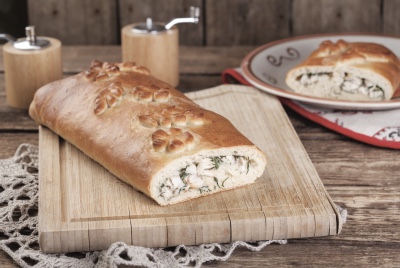 COULIBIAC
INGREDIENTS:
100 g of rice, 100 ml of water, 2 tablespoons of butter, 60 ml of cream, 1 onion, 300 g of mushrooms, 2 tablespoons of parsley, 400 g of skinned salmon, ½ glass of water, 2 bay leaves, 1 lemon, 3 eggs, 2 tablespoons of dill, ½ teaspoon of white pepper, 500 g of puff pastry, 1 teaspoon of coarse salt.
INSTRUCTIONS:
The washed rice is fried with a spoonful of butter until it becomes transparent. 100 ml of boiled water is added to it and cooked, then add the cream, and leave the rice to cool. The onions are put in the pan, cooked with a spoonful of butter until they become transparent, add the mushrooms and sauté, then the creamy rice mixture is added and left to cool. Two eggs are boiled for 10 minutes. In a separate pan, water, a bay leaf, and half a lemon peel are added to the salmon and cooked. After it cools down, the salmon, egg, and chopped parsley are minced and mixed with a fork. Puff pastry dough is rolled out. The rice mixture and salmon are placed over the dough. The dough is folded together on both sides and turned into a roll. An egg is whisked and brushed over the roll and sprinkled with salt. It is cooked in an oven at 200 degrees for 30 minutes.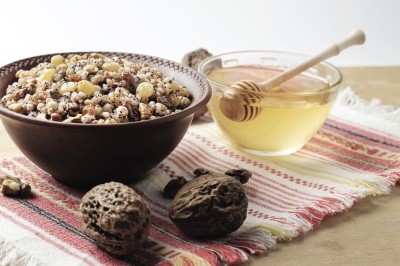 KUTIA / SOCHIVO
INGREDIENTS:
1.5 glasses of wheat, 6 glasses of milk, 3 tablespoons of poppy seeds, ½ glass of honey, ½ cup of raisins, 3 tablespoons of dried apricots, ½ cup of walnuts, a pinch of salt.
INSTRUCTIONS:
The wheat is thoroughly washed and kept in warm water overnight, and the next day, it is cooked in milk over a medium heat with a pinch of salt. The wheat is drained and left to cool. Poppy seeds are kept in boiling water for 10 minutes and then filtered through a food processor or crushed in a mortar. The crushed poppy seeds are mixed with the wheat porridge. It is served with small chopped dried apricots, walnuts, and raisins, and with drizzled honey.
ENGLAND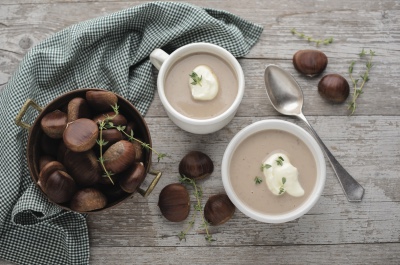 CHESTNUT SOUP
INGREDIENTS:
125 g butter, 200 g boiled and peeled chestnuts, 1 carrot, 1 parsnip, 1 celery, 2 lt chicken stock, 100 ml (1 tea glass) white wine, 1 pinch of nutmeg, 1 teaspoon salt, 1 teaspoon ground black pepper, 2 sprigs of fresh thyme, 100 ml cream.
INSTRUCTIONS:
The chestnuts are sautéed using half the butter and allowed to cool. Diced carrots, parsnips, and celery are sautéed with the remaining butter. The chestnuts, chicken stock, wine, nutmeg, salt, and black pepper are added, and it is boiled for 20 minutes on a medium heat. The cooked soup is pureed using a blender. It is served with whipped fresh cream and thyme.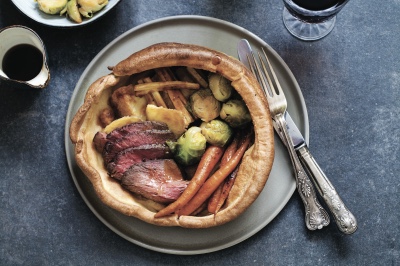 ROAST BEEF WITH GRAVY SAUCE
INGREDIENTS:
2.7 kg boneless beef loin, 3 teaspoons ground black pepper, 1 tablespoon grain mustard, 1 tablespoon fresh rosemary, 1 garlic, 200 g Brussels sprouts, 300 g carrots, 300 g potatoes, 2 tablespoons olive oil, salt.
For gravy sauce: 1 cup condensed broth, ½ cup red wine, 500 ml broth, 1 tablespoon cold butter.
For the Yorkshire pudding: 2 eggs, 100 g of flour, 100 ml of milk.
INSTRUCTIONS:
Black pepper, mustard, fresh rosemary, 2 cloves of crushed garlic, olive oil, and salt are mixed in a bowl. Three-quarters of this sauce is rubbed into the meat. The cabbage, carrots, potatoes mixed with the remaining sauce, and the halved garlic head are laid on a baking tray. Meat is placed on the bed made of vegetables. After it is cooked in the oven at 250 degrees for 10 minutes, the oven temperature is reduced to 180 degrees, and the meat is baked for another 45 minutes. When taken out of the oven, it is covered with the foil and left to rest. For the gravy sauce; the condensed broth is mixed with red wine and is cooked until it boils. The heat is then turned off, and cold butter cubes are added to the sauce. The casserole pots are buttered and heated in the oven at 220 degrees for 15 minutes. Meanwhile, egg, flour, and milk are whisked. The flour mixture is quickly poured into the well-heated casserole pots. It is baked in the oven at 180 degrees until it turns golden yellow. Sliced ​​roast beef and vegetables are placed in the casserole pots covered with the Yorkshire pudding. It is served with gravy sauce.
USA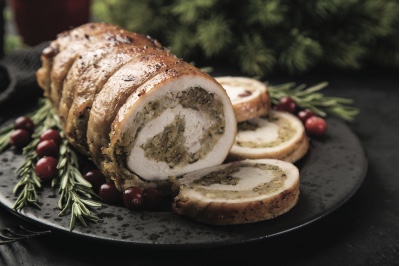 FILLED TURKEY CHEST
INGREDIENTS:
2 large turkey breasts (boneless, skin removed, butterfly cut), 1 tablespoon olive oil, 1 teaspoon salt, ½ teaspoon of black pepper, 3 slices of smoked bacon, 1 small shallot, 2 cloves of garlic, 5 mushrooms, 4 cups of spinach, ½ teaspoon of paprika, ½ cup parmesan cheese, 2 tablespoons butter.
INSTRUCTIONS:
Mushrooms, onions, and garlic are sautéed in olive oil. The mixture is placed in a separate bowl. In the same pan, first the spinach and then the bacon are sautéed. It is combined with the mushroom mixture, then paprika, salt, black pepper, and parmesan cheese are added, and this filling is spread between the breast meat. The meat is rolled up and tied with a string so that it does not come loose. It is cooked in an oven at 190 degrees for about 50 minutes until it is browned. You can serve it with creamy potatoes.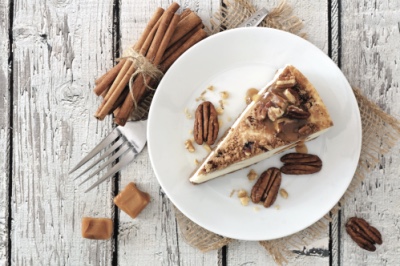 PECAN CHEESECAKE
INGREDIENTS:
For the base: 18 whole wheat biscuits, 1 teaspoon cinnamon, 8 tablespoons butter
For the filling: 350 grams of labneh cheese, 1 glass of brown sugar, 1 cup of cream, 2 teaspoons of vanilla extract, a teaspoon of salt, 2 tablespoons of corn-starch, 2 eggs.
For the decoration: 1 cup pecan, 2 tablespoons brown sugar, 2 tablespoons butter, ½ cup cream, ½ teaspoon of salt, 2 teaspoons of vanilla extract.
INSTRUCTIONS:
Biscuits, melted butter, and cinnamon are ground in the food processor. It is shaped by pressing it into the container to be cooked. Cream cheese, brown sugar, and cream are whipped thoroughly. Vanilla extract, salt, corn-starch, and eggs are added to the mixture and whisked once more. The mixture is poured over the base. It is baked at 250 degrees for 5 minutes and then baked for another 1 and a half hours at 80 degrees. After cooling, it is covered and kept in the refrigerator for 4 hours. Pecan walnuts are roasted at 120 degrees for 10 minutes. Brown sugar is melted on a medium heat. Butter and cream are added. After the heat is turned off, walnuts, vanilla extract, and salt are added. After the sauce cools down a little, it is poured over the cooled cheesecake.