We have already started feeling excited for the New Year. If you want to cook a different New Year's Eve dinner for your guests this year, you can try this famous French cuisine.–
Crème Caramel
Ingredients:
1.5 cups of granulated sugar

3 cups full-fat milk

2 large eggs and the yolk of 3 large eggs

pinch of salt

2 teaspoons pure vanilla extract
Preparation:
Add 4 tablespoons of water and add 1 cup of sugar in a small saucepan, cook until the caramel turns amber and divide into containers. Heat the milk, but do not boil it. Whip eggs, sugar, salt and add milk and continue whipping. Strain through a fine sieve and add vanilla and mix. Divide into containers placed on a deep tray. Fill the tray halfway with water and bake at 160 °C for 35 minutes. Remove the cooked créme caramels from the water and let them cool. Rest the cooled dessert in the fridge for 3 hours – 3 days. Before serving, run a knife around the bowl and turn it upside down and shake it out. Serve cold.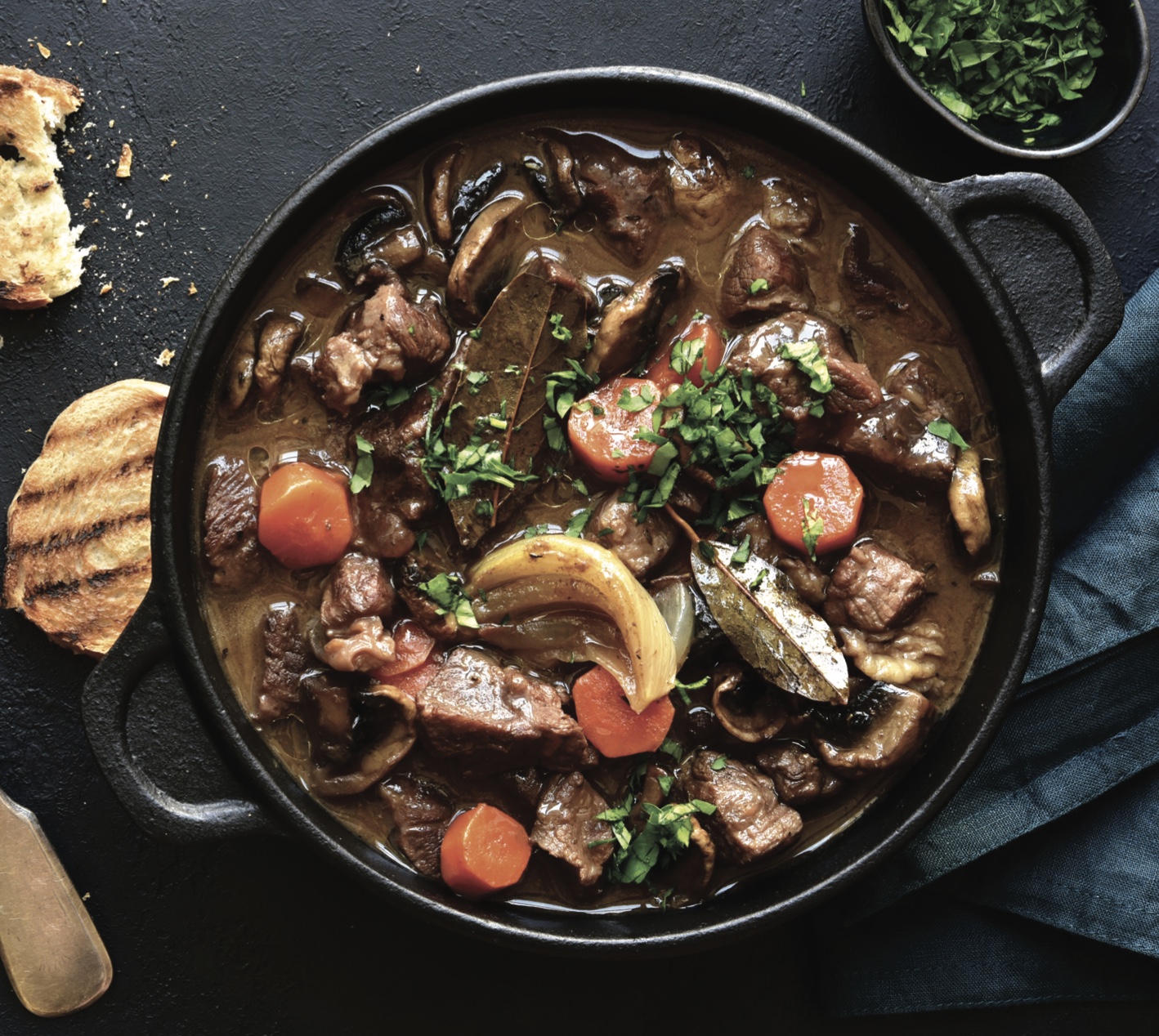 Beef Bourguignon
Ingredients:
1.5 kg beef, diced into 5-cm cubes

4 big carrots, chopped

4 celery stalks

4 cloves of garlic

1 onion

50 gr. flour

20 gr. Unsalted butter

Olive oil

200 gr. shallot

400 gr. mushroom
Sauce:
2 teaspoons Dijon mustard

2 fresh bay leaves

1 small pinch of ground cloves

750 ml. Burgundy or Pinot Noir wine

Topping

½ bunch of parsley (15gr)
Preparation
Dice beef into 5-cm cubes, chop carrots and celery into bite-sized pieces. Roughly chop the garlic and onion. Prepare the sauce and refrigerate all the ingredients in a large bowl overnight. Strain the sauce and keep it aside. Dry and flour the meat. Fry in butter and set aside. Chop and sauté the mushrooms, add the vegetables and continue sautéing. Add the filtered wine, 750 ml of water and meat to the pot. Wet and shrink the greaseproof paper, cover the bowl and bake in the oven at 160°C for about 4 hours. Remove from the oven and serve with a sprinkling of chopped parsley.