The Crown Building Aman Hotel, located in New York, USA, and whose renovation we have completed, is now open in the Aman Hotel, where real fireplaces, flamboyant bathrooms, oval bathtubs and marble shower cabins are available in its suites, the only thing left for guests to do is to enjoy the gracefully designed architecture.
The Crown Building Aman Hotel features an ideal design for both business and pleasure seekers. The suites of the hotel are among the largest in the city. The suites, where we designed pleasant spaces to escape from the outside world, feature real fireplaces which makes it a first in New York. The vanity bathrooms feature a large relaxation area with oval bathtubs, marble shower cabinets, and a double sink. Thanks to the decoration, where we blended the soft tones of natural materials with the views offered by the large windows, guests will be able to feel balance and harmony while relaxing.
AMAN SUITES
Aman Suites, the smallest of which is 188 square meters, are the largest suites in the Aman Hotel. Seeing iconic views of Fifth Avenue and 57th Street, the suites are designed to reflect the elegant minimalist style of Japan's tranquil and open-plan aesthetic. These suites feature a reproduction of Hasegawa Tohaku's Pine Trees masterpiece and a real fireplace.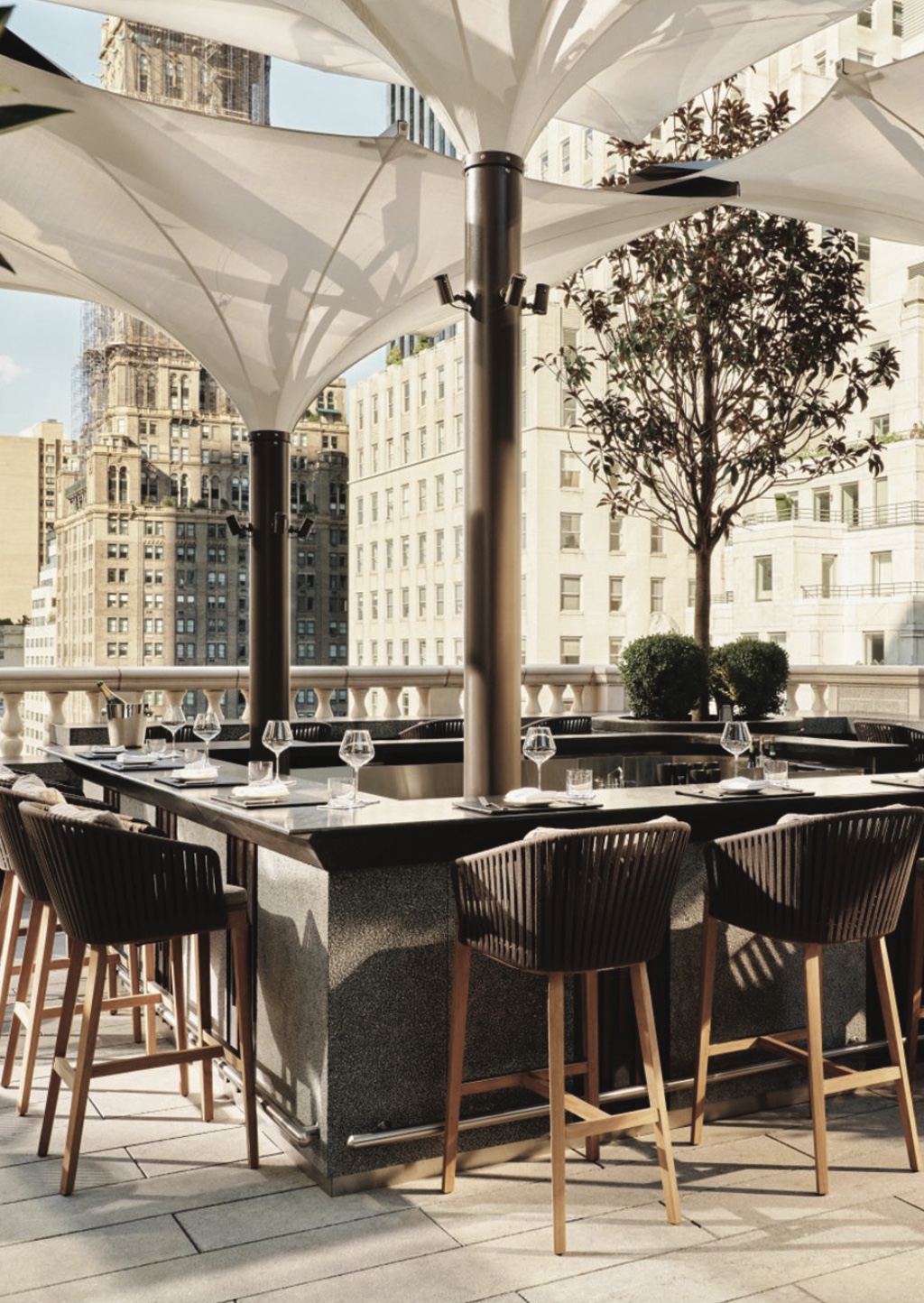 CORNER SUITES
Aman New York's spacious Corner Suites also offer views of iconic Fifth Avenue and 57th Street. The separate bathroom and living areas in the 182-and 188-square-metre suites allow guests to customize the room to their liking, while a large walk-in closet creates a 'home away from home' feeling.
GRAND SUITES
Overlooking 56th or 57th Street, Aman New York's Grand suites also offer a wide area to relax away from the bustle of the city. Starting from 95 to 192 square meters, the suites are designed to be quite spacious with one or two bedrooms, respectively. Hasegawa Tohaku's interior, blending wood, washi paper and stone art, was inspired by Japanese minimalism.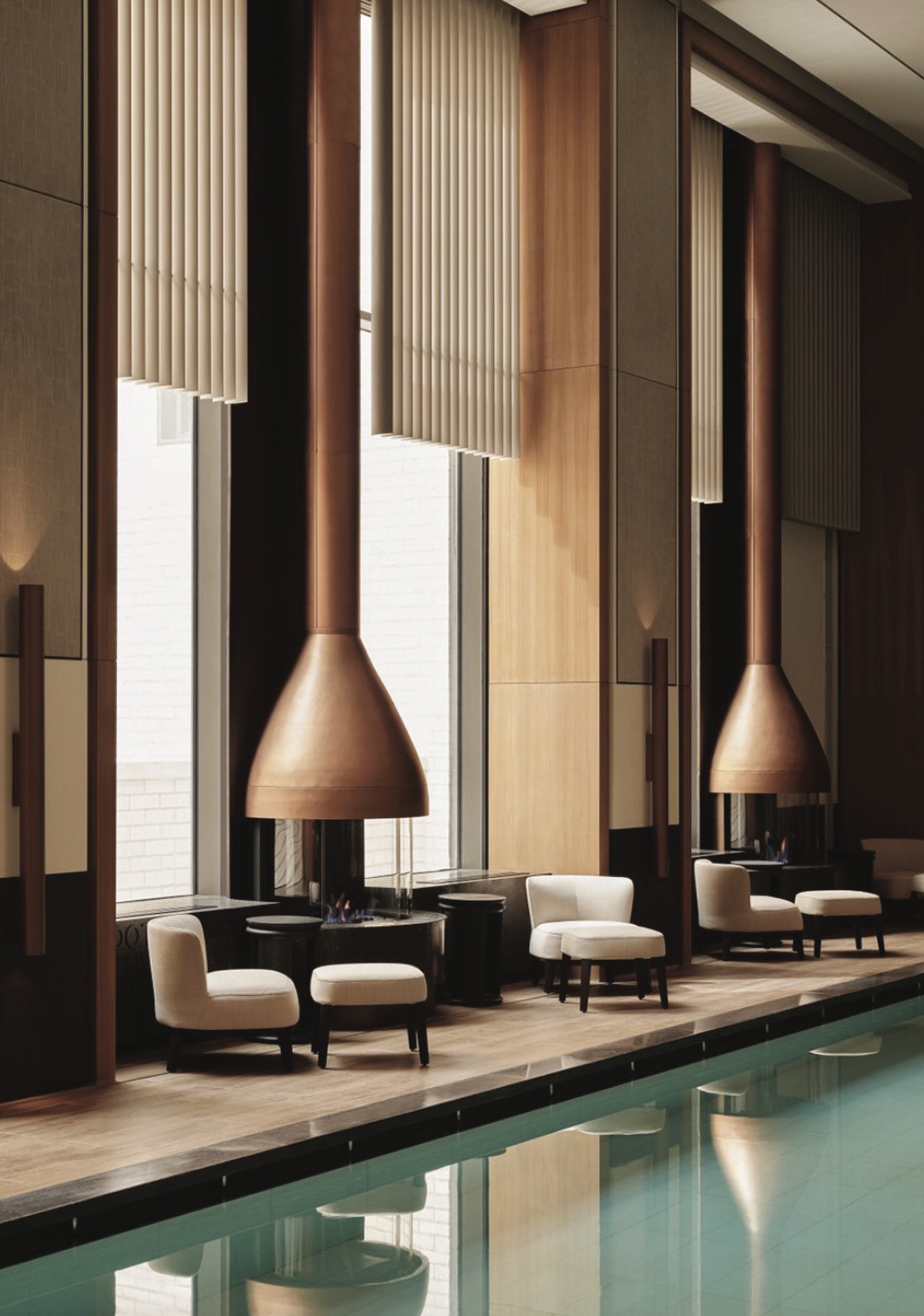 PREMIER SANCTUARY SUITES
Located on the top two floors of the hotel, these suites have iconic views of 57th Street. The suites, whose living areas vary between 75-83 square meters, allow the guests to configure the room as they wish, with mood integrated lighting panels separating the bathroom and bedroom. Contemporary design, open plan living, and Japanese-inspired interiors create a majestic vibe.
PREMIER SUITES
These hotel suites are designed to be a contemporary retreat for a restful night's sleep. Aman New York's Premier suites, each with 56th or 57th Street views, also offer contemporary open-plan living and Japanese-inspired interiors with delicate ink-painted reproductions of Hasegawa Tohaku's Pine Trees painting.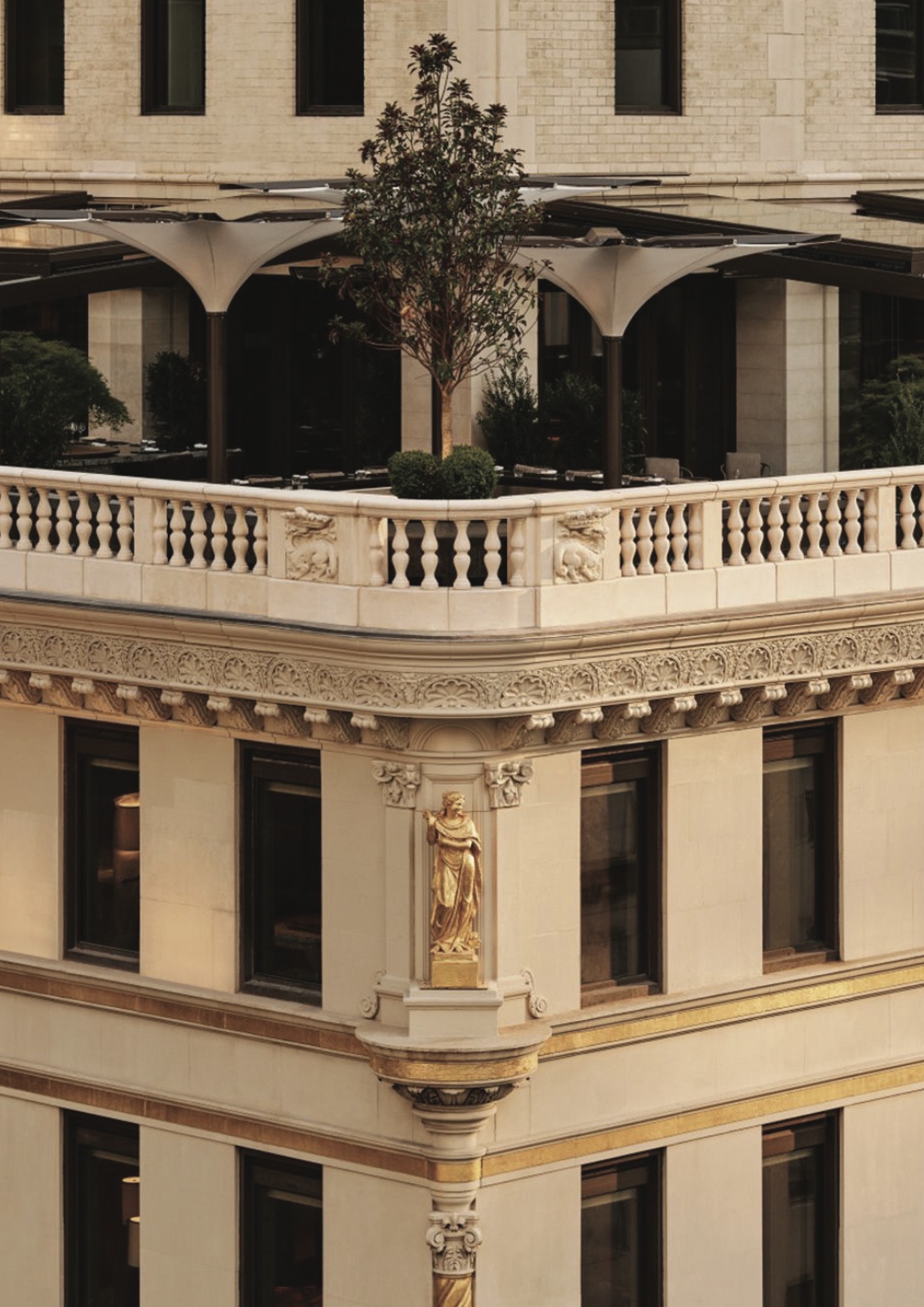 FIFTH AVENUE JUNIOR SUITES
These suites invite guests to get away from the outside world, with a real fireplace, a bedroom and a living room area separated from the bathroom with rotating panels to create an environment that allows guests to adapt the room to their own tastes.
FIFTH AVENUE SUITES
In these suites, guests will feel they are in a spacious urban sanctuary inspired by Japan's elegant minimalism. A combined king-size bedroom and living area, a reproduction of Hasegawa Tohaku's Pine Trees mural, state-of-the-art technology, innovative lighting, and sumptuous fabrics are also featured in these suites.
RESIDENCES IN AMAN NEW YORK
Located in the heart of Manhattan, at the intersection of 5th Avenue and 57th Street, overlooking Central Park, Aman Residences adds a different atmosphere to the iconic The Crown Building. The Aman Residences is comprised of only 22 unique and private homes that invite their owners to be part of a unique and exclusive community. Designed by renowned Denniston architect Jean-Michel Gathy to respect the stunning architecture of The Crown Building, the apartments are in harmony with Manhattan's relentless heartbeat.
SPECIAL ENTRANCES AND FEATURED SURFACES
The owners and guests of the residences have access to a separate private entrance from the hotel. All residences have specially designed featured interior finishes, each is equipped with high acoustic design, integrated security and telecommunication systems, up to three fireplaces, Gaggenau kitchen appliances, floor heating in the main bathrooms, rain and/or steam showers, and bathtubs. Property owners can also benefit from Aman New York's professional management and residential services. They can also include their properties in Aman's rental program and have access to three main dining venues, unrivaled facilities including a jazz club, wine room and the 2,300 square meters Aman Spa.
PROJECT DETAILS
Name: The Crown Building
Location: United States of America, New York
Content: Housing, Hotel, Renovation
Size: Completely renovated, 26 apartments, 83 hotel rooms, lobbies attached to the hotel, Spa and pool, sports center, restaurants, and Jazz Club
Contract price: $300 million
Importance: The building is known as the Crown of Manhattan, a landmark of New York with its gold leaf copper roof that resembles a royal crown. Built in 1921, the building is a witness to the city's history and was also the first high-rise building in Manhattan's Midtown area.