Cooking seafood at home, which is a must for a healthy diet, can be intimidating. However, you will change your mind after cooking these delicious recipes that you can serve just in 20 minutes.
FRIED FISH SANDWICH
Ingredients:
1 white bread

2 large pieces of bonito fillet (or sea bass fillet)

1 onion (sliced)

1 tsp chili pepper

1/2 bunch parsley (optional)

Juice of half a lemon

Olive oil

Salt – black pepper
Recipe:
Combine onions, parsley, lemon juice, chili pepper, salt and pepper in a bowl and mix by crushing a little. Add some oil to the pan and fry the fish for 3 minutes with their skins facing down. Turnover and fry for 2 more minutes. Place the parsley mixture on top of the pieces. Serve hot.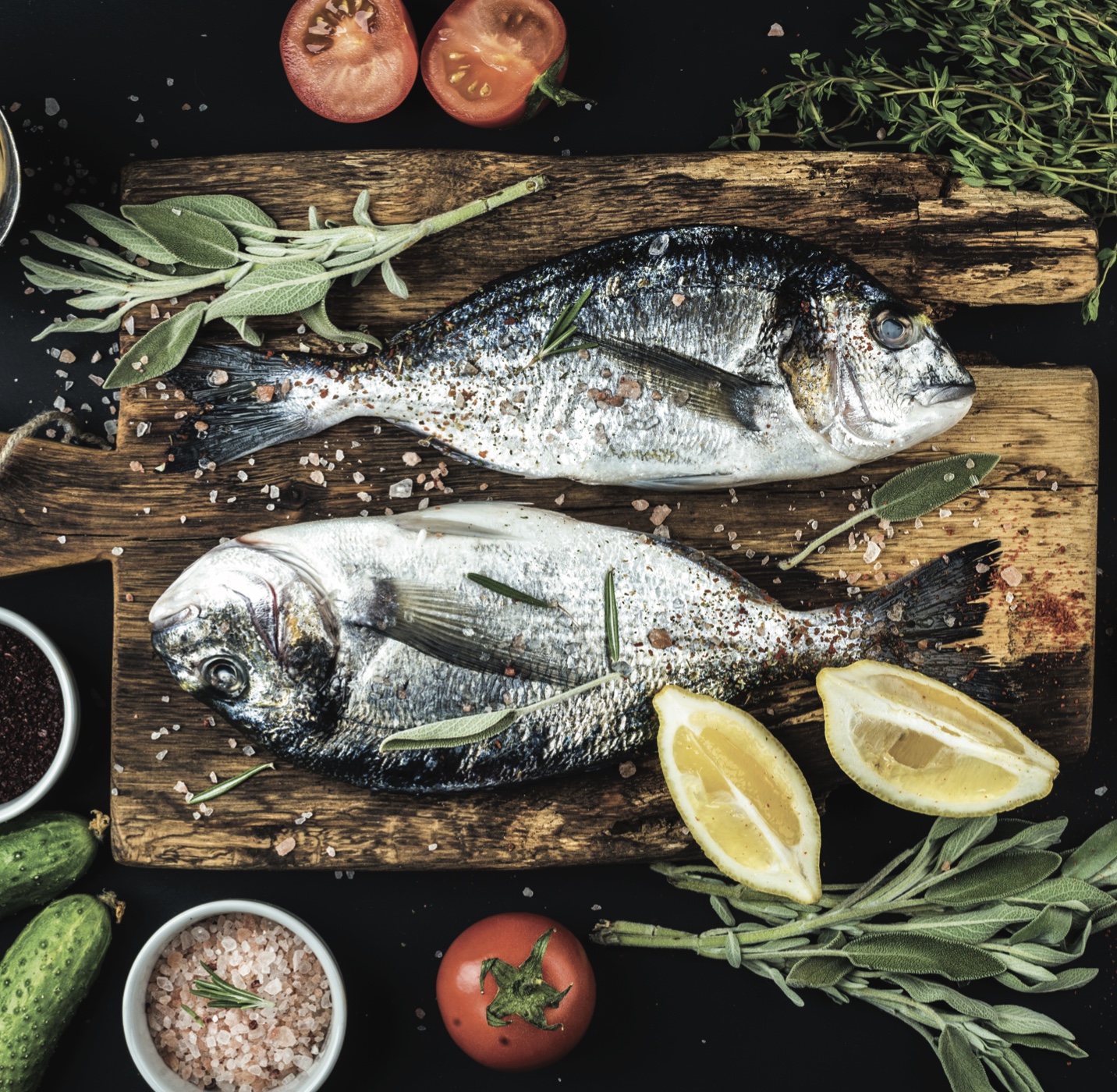 EASY BREAM IN THE OVEN
Ingredients:
4 sea bream fillets

5 tbsp melted butter

2 cloves of garlic (chopped)

1 tsp red pepper

The juice of 1/2 lemon and lemon zest

1 lemon (roundly sliced)

Salt

Freshly ground black pepper

Freshly chopped parsley to decorate
Recipe:
Heat the oven to 200 C. Season the fish with salt and pepper and prepare a small baking sheet. Place the lemon slices on the tray and place fish fillets on top. Mix the butter, garlic, red pepper, lemon juice, lemon zest and pour over the fish. Bake for 12-15 minutes. Garnish the fish from the oven with parsley and serve.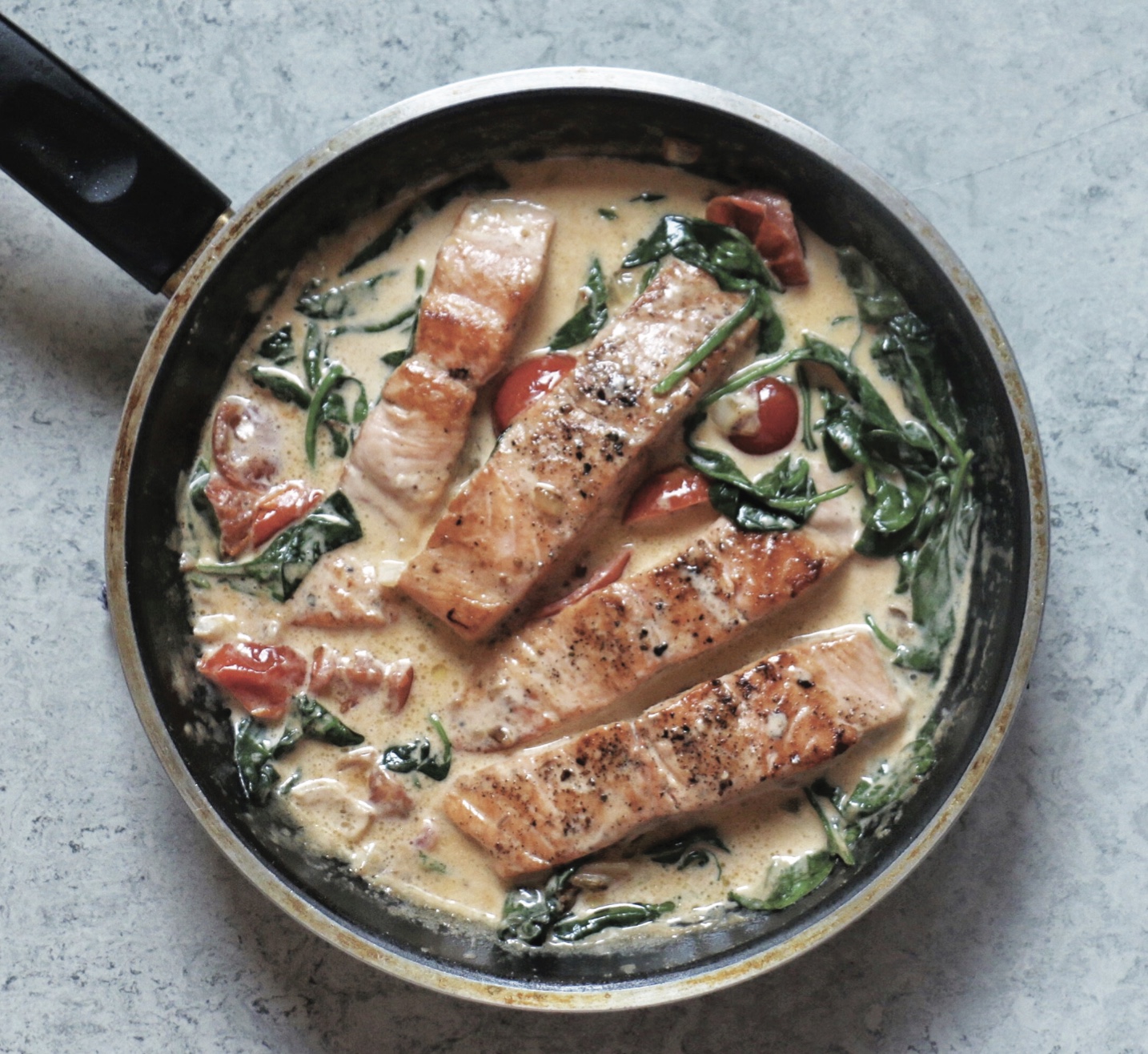 FRIED SALMON WITH CREAM
Ingredients:
4 tbsp extra virgin olive oil

4 salmon fillets (thickly sliced)

Salt

Freshly ground black pepper
For the dressing:
1 tbsp butter

3 cloves of garlic (chopped)

10 cherry tomatoes (halved)

1 cup of baby spinach

1/2 cup of cream

4 tbsp parmesan (grated)

Lemon slices (optional)
Recipe:
Heat the olive oil in a large pan over medium-high heat. Season the salmon and place it in the pan with the skin facing down. Cook over a high heat for 5 minutes without moving. Turn-over and cook for another 2 minutes and set aside. Reduce the heat to medium. Add the butter, garlic and tomatoes and cook them until sautéed, then add the spinach. When the spinach softens, add the cream and parmesan, and bring the mixture to a boil. Cook over low heat for 3 minutes. Put the salmon back in the pan and cook for another 3 minutes while covering the salmon with sauce.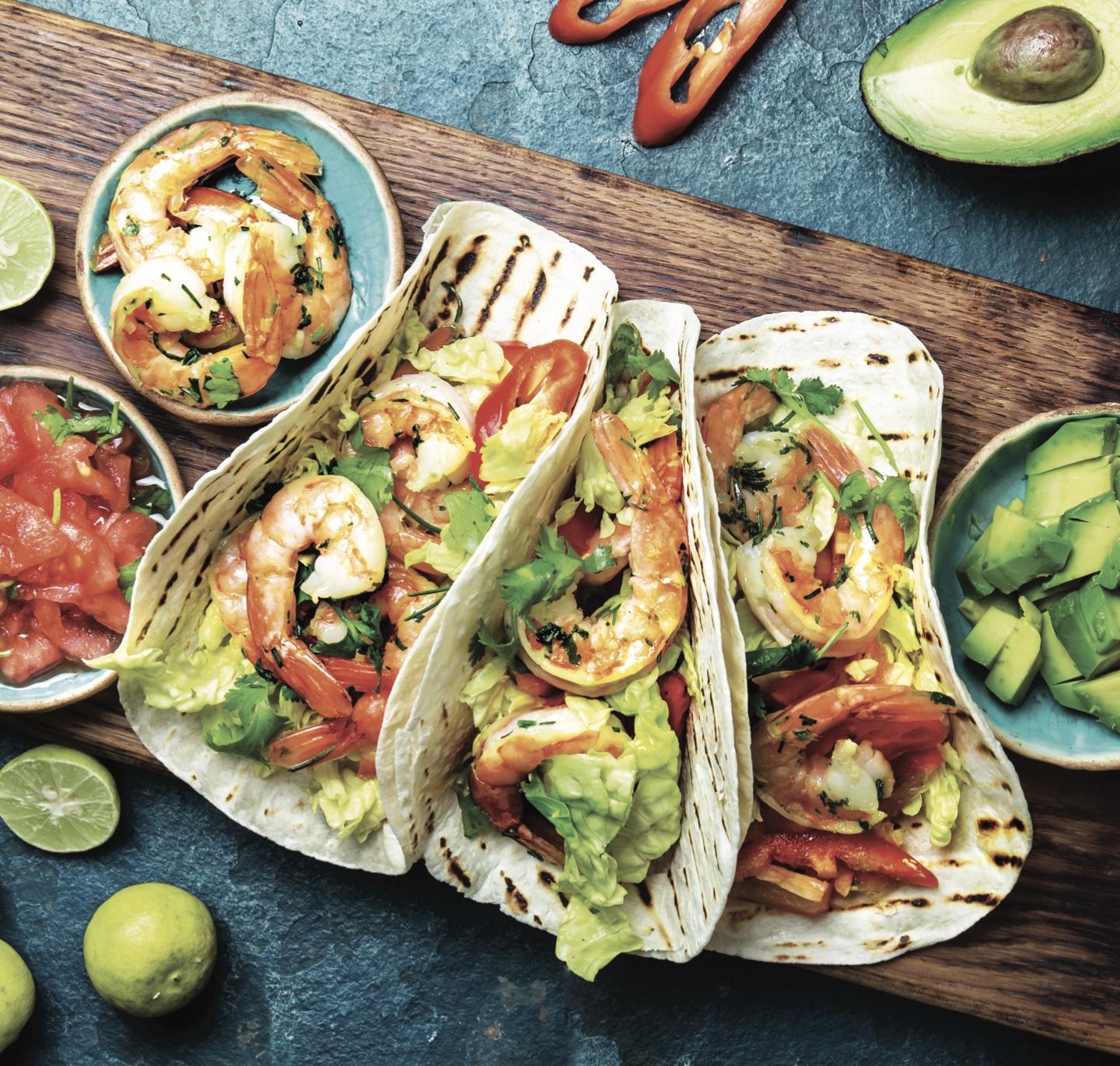 SALSA SHRIMP TACO
Ingredients:
For salsa:
2 large tomatoes

1 medium red onion

1 jalapeno pepper (seeds removed)

Juice of 1 lime

1/2 cup chopped fresh coriander

1 pinch of dried thyme

1 pinch of cumin

Salt – black pepper

4 taco shells

12 medium-sized shrimps (boiled)

1 large avocado (sliced)
Recipe:
Dice tomatoes, onions and peppers. Add the remaining ingredients and mix. Place the salsa and boiled shrimp in the taco shells. Add a few avocado slices and serve.