We have meticulously designed the Antteras Houses in Kirazlıtepe-Küplüce near Beylerbeyi, one of the most unique districts in İstanbul, considering every single detail that our residents may need. In Antteras, where we have allocated large areas for social facilities and we obtained Türkiye's first ÇEDBİK certificate, our focus is again on the 'individual'.
.Antteras designed by Ant Yapı with consideration to the historical texture of the Beylerbeyi district of Istanbul, provides the best views of the Bosphorus. Antteras is located on the hills of Beylerbeyi within the boundaries of Kirazlıtepe-Küplüce. The project is reminiscent of a neighborhood of wooden houses, a typical feature of old Istanbul.
The first phase of Antteras, which has a land area of 28 thousand square meters and a construction area of 33 thousand square meters, consists of four different types of blocks and contains 88 residences. Four different types of blocks are lined up in the form of two, four and five-bedroomed duplexes and three bedroomed flats on one floor. Two, four and five-bedroomed duplex apartments range from 187 square meters to 435 square meters, while three-bedroomed apartments range from 189 square meters to 263 square meters.  In addition, upon request, duplex residences can be combined and converted into twin residences.
With the strength we derive from the joy of our residents, we have begun the construction for the second phase of the Antteras Houses. The second phase of our project, which has wide layout plans that meet all the needs of the residents, consists of 54 houses. The second phase of Antteras has been meticulously designed and consists of 12 garden duplexes, 12 roof duplexes, 24 four-bedroomed apartments and 6 three-bedroomed apartments.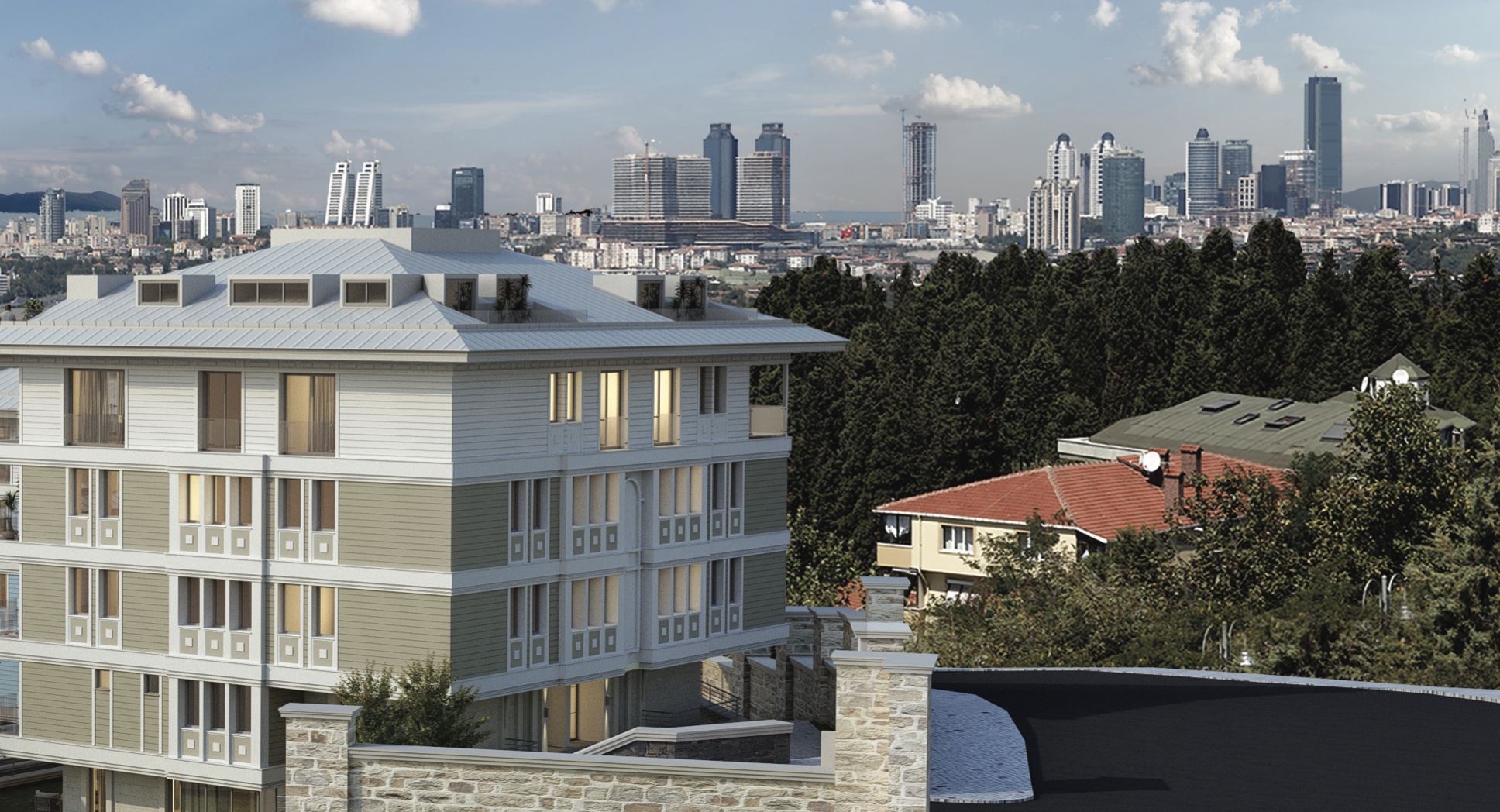 The project has a social area of 8,500 square meters including a cafeteria with panoramic view, restaurant, lounge, outdoor swimming pool and children's pool, indoor swimming pool, spa and sports center, tennis court, basketball field, and a playground with play units.  Antteras where natural green areas have an important place in the design has an ornamental pool, walking trails, flower gardens, and recreation sites.
In other words, we designed the Antteras project as a unique neighborhood concept next to the Bosphorus that wraps around Istanbul, the most beautiful city in the world. Antteras, a noble representation of old Istanbul houses worthy of Beylerbeyi, is like a peaceful harbor with its houses with the 18th century architecture, color, texture, and special design, but in a location far from the chaos.
At Ant Yapı, the focus of all our projects is the 'individual'. Our aim is to accurately identify the needs of our customers and to provide the right solutions to these needs. Therefore, the Antteras project, which is embroidered in the finest details with the art of architecture, remains a living space that produces solutions for all the needs of a family. All materials used in our project and the production of them are made in accordance with the technical specifications of the Ministry of Environment, Urbanization and Climate Change and in accordance with TSI norms.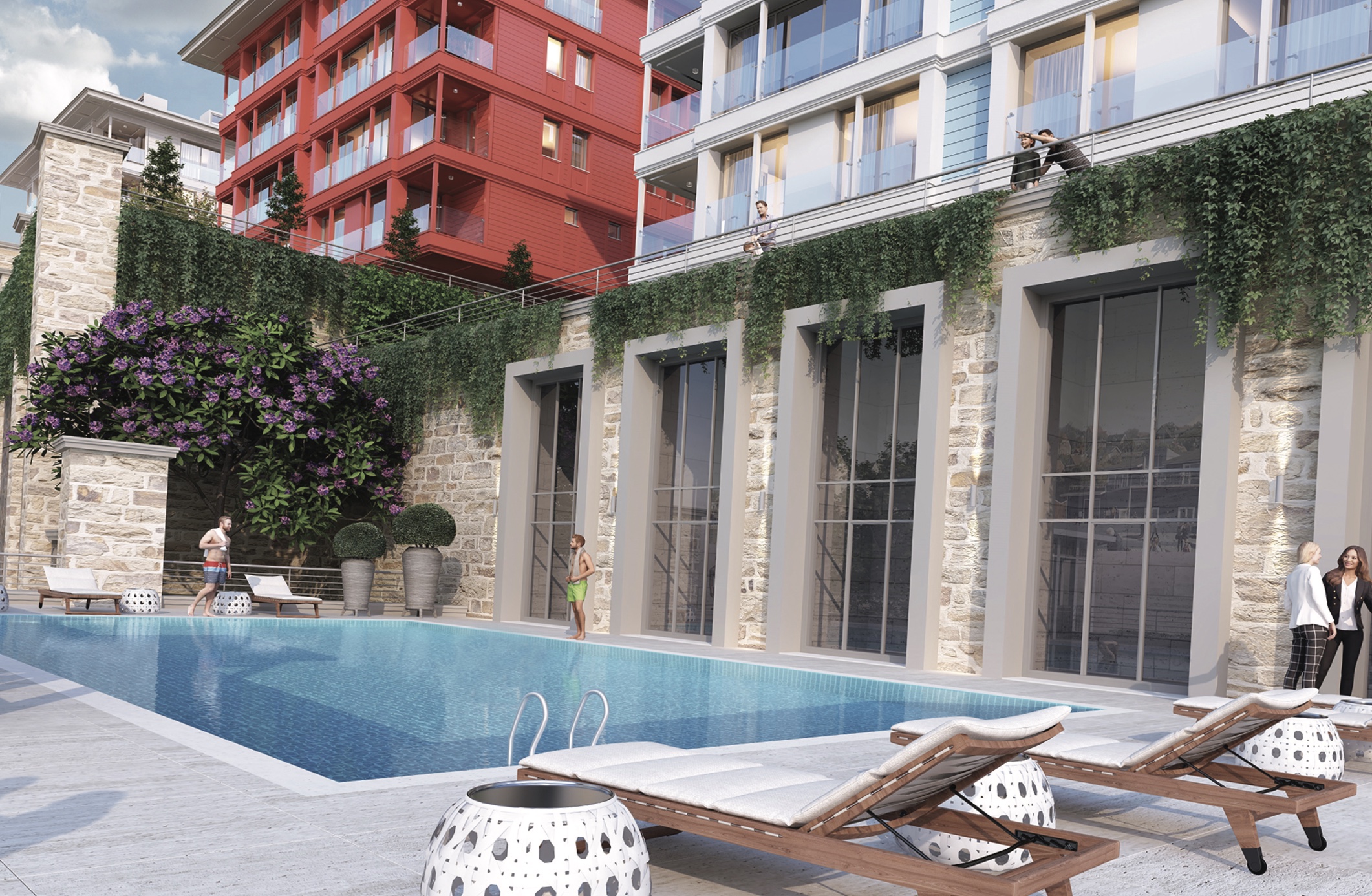 TURKIYE'S FIRST ENVIRONMENTAL CERTIFIED PROJECT
Buildings are a major area for energy efficiency improvements worldwide, as they are major energy consumers. Elements that provide life comfort in buildings, namely lighting, heating, cooling and ventilation systems all consume energy. In addition, energy efficiency can be in question even in the processes of renovation and even the demolition of buildings. Issues such as how a house is insulated, and the reduced use of heating and cooling energy to obtain and maintain warmth in a building became important. The goal is now energy efficiency! In other words, as major players in the construction industry, we work with the goal of reducing the amount of energy required to provide products and services. In line with this goal, we adopt more efficient technologies or production processes and apply widely accepted methods to reduce energy losses.
Our Antteras project has the Green Building certificate ÇEDBİK-Konut (Turkish Green Building Council's Housing Certificate) for the first time in Türkiye. As you know, many Ant Yapı buildings built and under construction in Türkiye and around the world are green certified. As a pilot project, Antteras received the ÇEDBİK (Turkish Green Building Council) Housing Certificate and added a very important link to this chain. We have proved once again that we carry our sensitivity about green buildings and sustainability into the future with these certificates.