Turkey's St. Tropez: Bodrum… Aspat, one of the most beautiful coves in the world with its soft sand and clear sea. Radisson Collection Hotel, Bodrum, located in Aspat Bay, opened its doors for the new season on April 1. From this year on, our guests will be able to enjoy Bodrum throughout all the seasons. We also offer unique opportunities to create unforgettable memories for those who want to celebrate their special days here.
Radisson Collection Hotel Bodrum, which Ant Yapı brought to life by breaking new ground last year, started to host its guests in the unique beauty of Aspat Bay and opened its doors for the summer season. The Radisson Collection brand, one of the luxury brands of the Radisson Hotel Group and brought to Turkey for the first time by Ant Yapı, stands out with its unique and iconic hotels that are directly related to the local culture of its location. We are now offering this experience to our guests in Bodrum's unique Aspat Bay, which was defined as the "land of the eternal blue" by Homer. Radisson Collection Hotel Bodrum, the first hotel of the Radisson Collection brand in Turkey, is our fifth tourism investment in our country.
Now, let's talk about the features of Radisson Collection Hotel Bodrum, which we have designed with great care in even the smallest details and our reunion on April 1st with our guests for the new season.  Our guests can enjoy the sea in either the quiet or the more active areas on the beach, which extends along a 400-meter coastline adjacent to the coast of Aspat Bay. It is not necessary to stay in a hotel to use this magnificent beach and day-trippers can receive service by making reservations. We serve amazing flavors all day long at our beachfront restaurant, Cafe Haven. In BARranco, which offers its guests both the unique tastes of Aegean cuisine and selections from Peruvian cuisine, guests go on a gastronomic journey. Our guests can enjoy shopping in the Anthaven bazaar area within the hotel, and families with children can participate in special events for little guests. Let's talk about the most enjoyable aspect of our hotel, our spa, spread over an area of 1,150 square meters it stands out in the region with its seven massage rooms, indoor pool, Turkish bath, sauna and steam room. Apart from the personalized services, there are beach volleyball, mini golf, basketball fields and tennis courts for those who do not want to take a break from sports on holiday.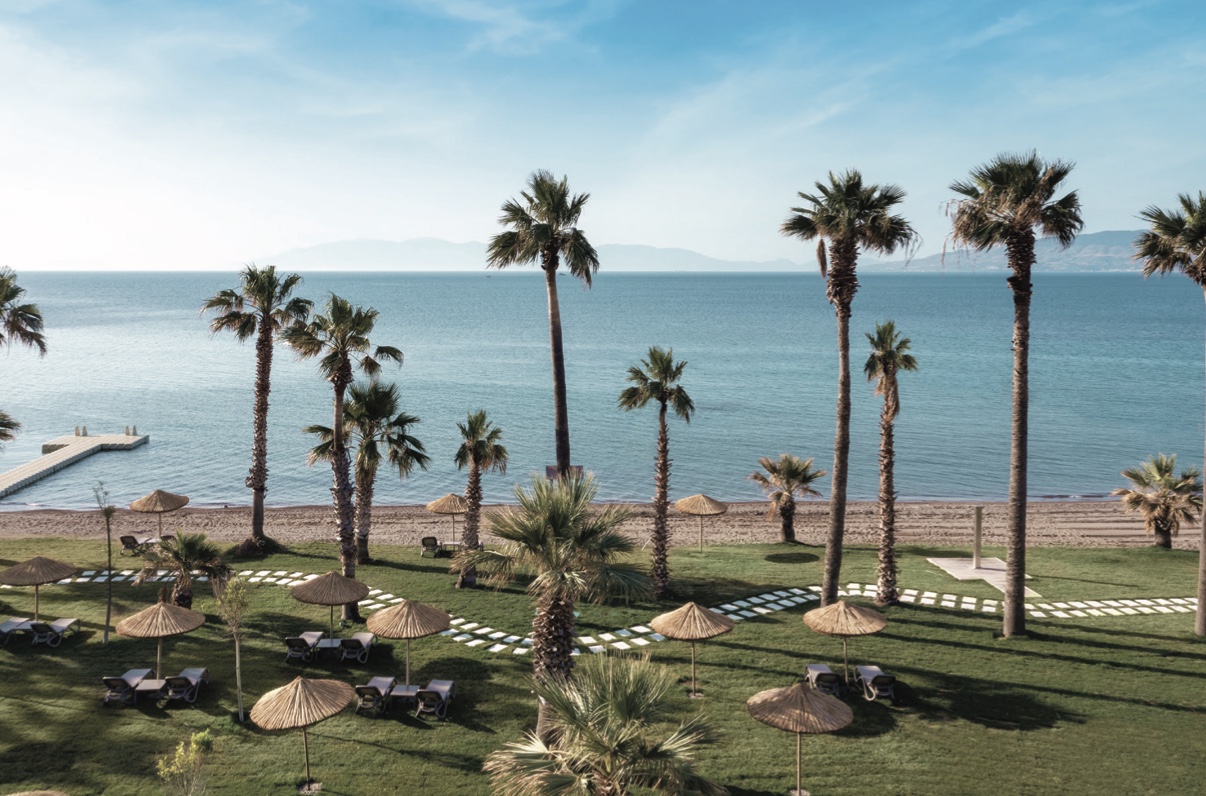 Our hotel is located 12km west of Bodrum, 46km from Milas-Bodrum International Airport and 30 minutes' drive from the center of Bodrum. Thanks to its location, our guests can visit the historical Bodrum Castle, Mindos Gate, Bodrum Antique Theatre, Bodrum Marina & Shipyard and Bodrum Old Town effortlessly. With its seven different room options for every need, Radisson Collection Hotel Bodrum has a total of 80 rooms. In our rooms with single or twin beds, we offer our guests a separate toilet and shower area, in-room temperature control, balcony or terrace, full HD flat screen television, telephone, in-room safe, mini bar, work desk, coffee machine, free wi-fi connection and pillow option. We also have a room reserved for our guests with disabilities. Our hotel offers services such as a private sandy beach, outdoor pools, heated indoor pool, parking & valet service, kids club, nurse, and hairdresser. Our guests can also stay with their pets up to 8 kilos. In other words, we offer many personalized services to spend the highest quality holidays in our hotel. Fully equipped facilities for businesspeople are also among these services.  Radisson Collection Hotel Bodrum provides four meeting rooms with foyer areas from 40 square meters to 145 square meters.
TIME'S ADVICE…
Bodrum is an indispensable location for both local and foreign tourists with its sea, bays, and extensive history. Attracting even famous billionaires such as Bill Gates and Roman Abramovich, Bodrum makes a name for itself with its marinas where super yachts now dock, as well as its beauty. TIME magazine, one of the most prestigious publications in the world, also included Bodrum in its list of the 100 most amazing places in the world with the title of "Rising Riviera". TIME, which has been directing the destination trends by listing the must-see places in the world for the last three years, has included Radisson Collection Hotel Bodrum among the hotels to be experienced. TIME announced that this year, they have determined the residential areas that offer innovations and unique experiences, despite the pandemic, and the list is a tribute to these regions. To determine the list, TIME states that they care about real experiences and benefit from international networks of reporters and journalists.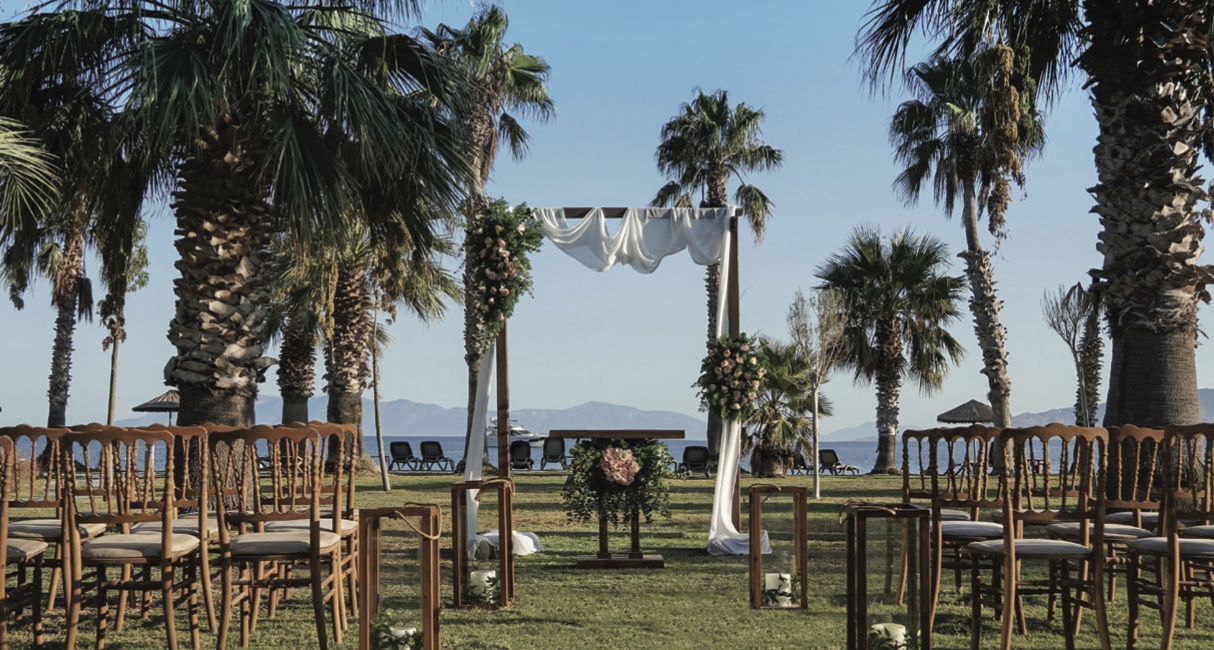 SPECIAL DAYS TURN INTO UNFORGETTABLE MEMORIES
Radisson Collection Hotel Bodrum turns special occasions and receptions into unforgettable memories. For many different special events, we host unforgettable memories for our guests in extraordinary places with a vista of Aspat Bay, accompanied by fairy-tale views.
The wedding suite, located against the breathtaking view of Aspat Bay, can host a bachelorette party on the large terrace of 15 square meters. By making a reservation at Sanitas Spa, bridal bath groups can have a pleasant time. During the entire event planning process, we guide our guests to the right contacts on many issues they may need.
In the preparation rooms with the private jacuzzi of the Anthaven Club House, couples can prepare for their most special day with pleasure. And for the evening of the wedding unforgettable moments can be created with guests by the pool, with a capacity of 350 people. With the breathtaking view of Aspat Bay offering extraordinary memories, we offer our guests a welcome cocktail in the area extending out to the endless blue.
At Termera Beach, we offer our guests opportunities for their special occasions along the coastline stretching for 400 meters. Guests can hold weddings and dinners, intertwined with nature and the history of Aspat Bay, on the beach with a capacity of 500 people, and continue their evening at Anhaven Club House all night long.