We are starting the second stage of sales of our Antteras project, which is a noble representation of old Istanbul houses worthy of Beylerbeyi. There are 12 garden duplexes, 12 roof duplexes, 24 four-bedroomed apartments and six three-bedroomed apartments in this second stage consisting of 54 houses.
Beylerbeyi, which was used as the private gardens of the sultans during the Ottoman Empire, is a beautiful Bosphorus district, also called the Ortaköy of the Anatolian side of Istanbul. Beylerbeyi, which is always the center of attention with its popular areas, places to visit, activities, and ease of transportation for people coming from outside the city as well as Istanbulites, also includes our award-winning project that integrates with the historical texture of the neighborhood. As Ant Yapı, with the Antteras Beylerbeyi project, we offer a unique neighborhood concept next to the Bosphorus that wraps around Istanbul, the most beautiful city in the world. Antteras, a noble representation of the old Istanbul houses worthy of Beylerbeyi, is like a peaceful harbor with its houses following the 18th century architecture, color, texture, and special design, but in a location far from the chaos.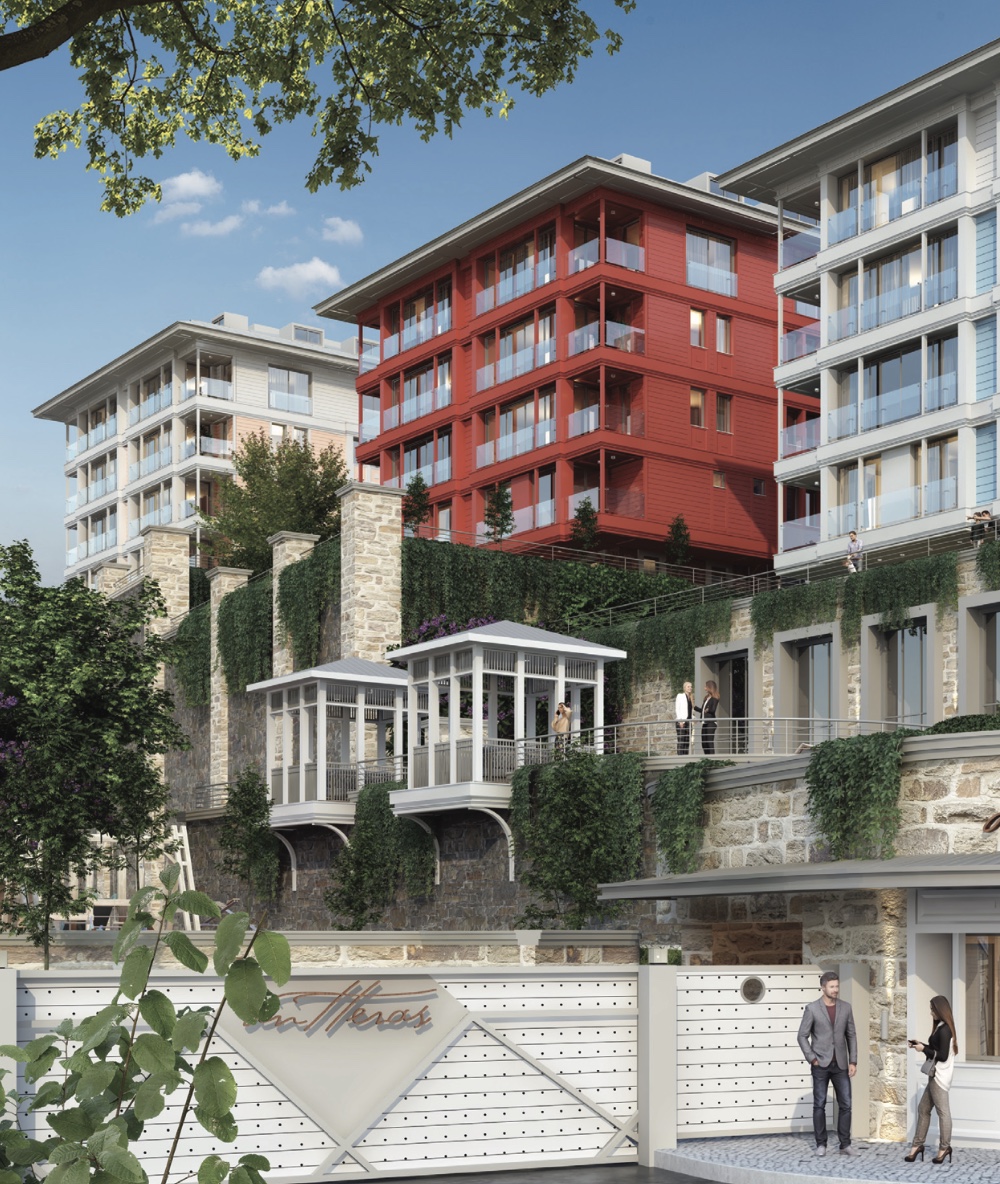 TURKEY'S FIRST ENVIRONMENTAL CERTIFIED PROJECT
Another feature of our project is that it has the Green Building certificate ÇEDBİK-Konut (Turkish Green Building Council's Housing Certificate) for the first time in Turkey. As you know, many Ant Yapı buildings built and under construction in Turkey and around the world are green certified. As a pilot project, Antteras received the ÇEDBİK (Turkish Green Building Council) Housing Certificate and added a very important link to this chain. We have shown once again that we carry our sensitivity about green buildings and sustainability into the future with these certificates.
Let's recap the housing types in the first stage of our Antteras project, which consisted of 88 houses within the boundaries of Kirazlıtepe-Küplüce on the ridges of Beylerbeyi. Four different types of blocks are lined up in the form of two, four and five-bedroomed duplexes and three bedroomed flats on one floor. Two, four and five-bedroomed duplex apartments range from 187 square meters to 435 square meters, while three-bedroomed apartments range from 189 square meters to 263 square meters. In addition, upon request, duplex residences that can be combined and converted into twin residences.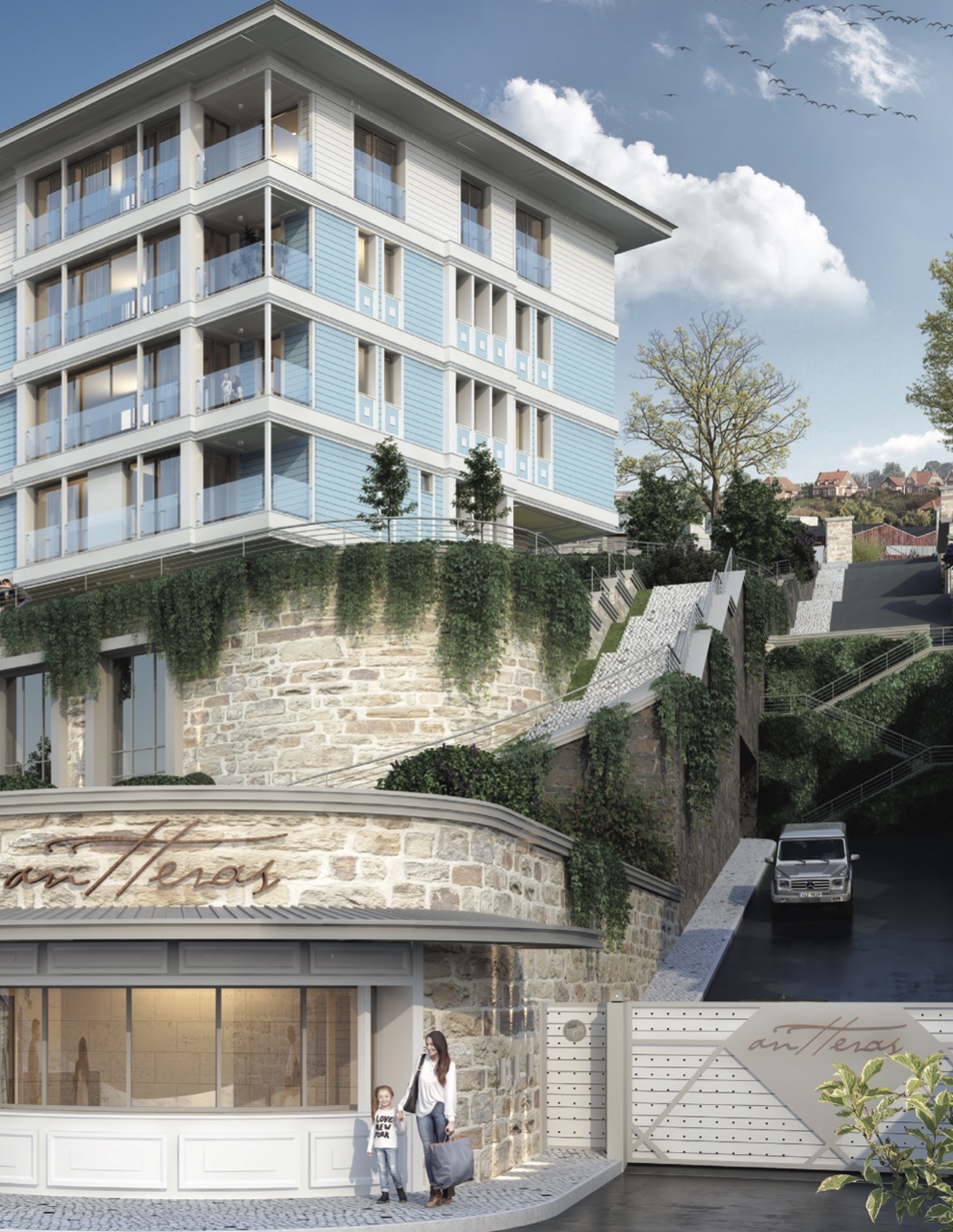 After the first stage of our project, which has an investment value of 350 million dollars in total, we have now started the sales of the second stage. Approximately 70% of the houses involved in the project have a view.
Antteras, which is adjacent to the Beylerbeyi Palace, has large settlement plans that meet all needs. The second stage of our project consists of 54 houses, 12 garden duplexes, 12 roof duplexes, 24 four-bedroomed flats and six three-bedroomed flats, all designed with great care.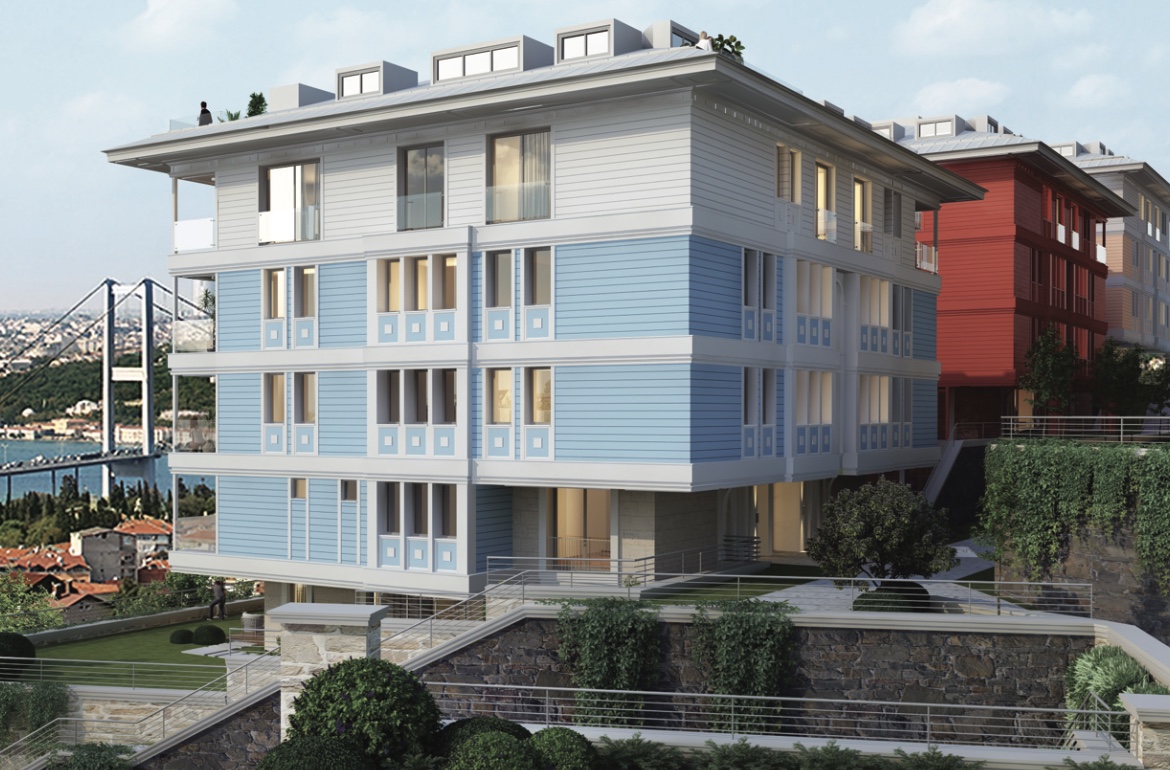 BOSPHORUS' PEARL BEYBERBEYI
The person responsible for the administration of a state during the Ottoman Empire was called Beylerbeyi.
Beylerbeyi is one of the oldest Bosphorus villages on the Anatolian coast of the Bosphorus, between Kuzguncuk and Çengelköy. The district got its current name from the mansion of Mehmed Pasha, the Beylerbeyi (Governor) of Rumelia during the reign of Sultan Murad III in the 16th century.
It starts from the foot of the Bosphorus (15th of July Martyrs) Bridge on the Anatolian side and stretches along a wide coast to the hills. While it was a sub-district of Üsküdar until the 1960s, it was then directly connected to the Üsküdar municipality as a district during the subsequent administrative changes. The district, which has been given the status of 'neighborhood' with the recent changes, still includes Abdullahağa (Istavroz), Küplüce, and Burhaniye neighborhoods.
Most of the waterside homes on Yalıboyu Street in Beylerbeyi, which includes many mansions, fountains, cisterns, and troughs were used in the 1960s Yeşilçam movies.
The symbol of Beylerbeyi is the Beylerbeyi Palace located just under the 1st bridge. It is one of the most magnificent palaces of Istanbul with its European baroque style architecture and oriental texture. The Historical Beylerbeyi Bath, located in the Beylerbeyi Mosque complex, is also a beautiful place for bath lovers.
In Beylerbeyi, you can find shops selling tourist goods, art galleries, tea gardens and various mussel and fish restaurants with their tables on the pier and the roadside, a place to have an enjoyable time.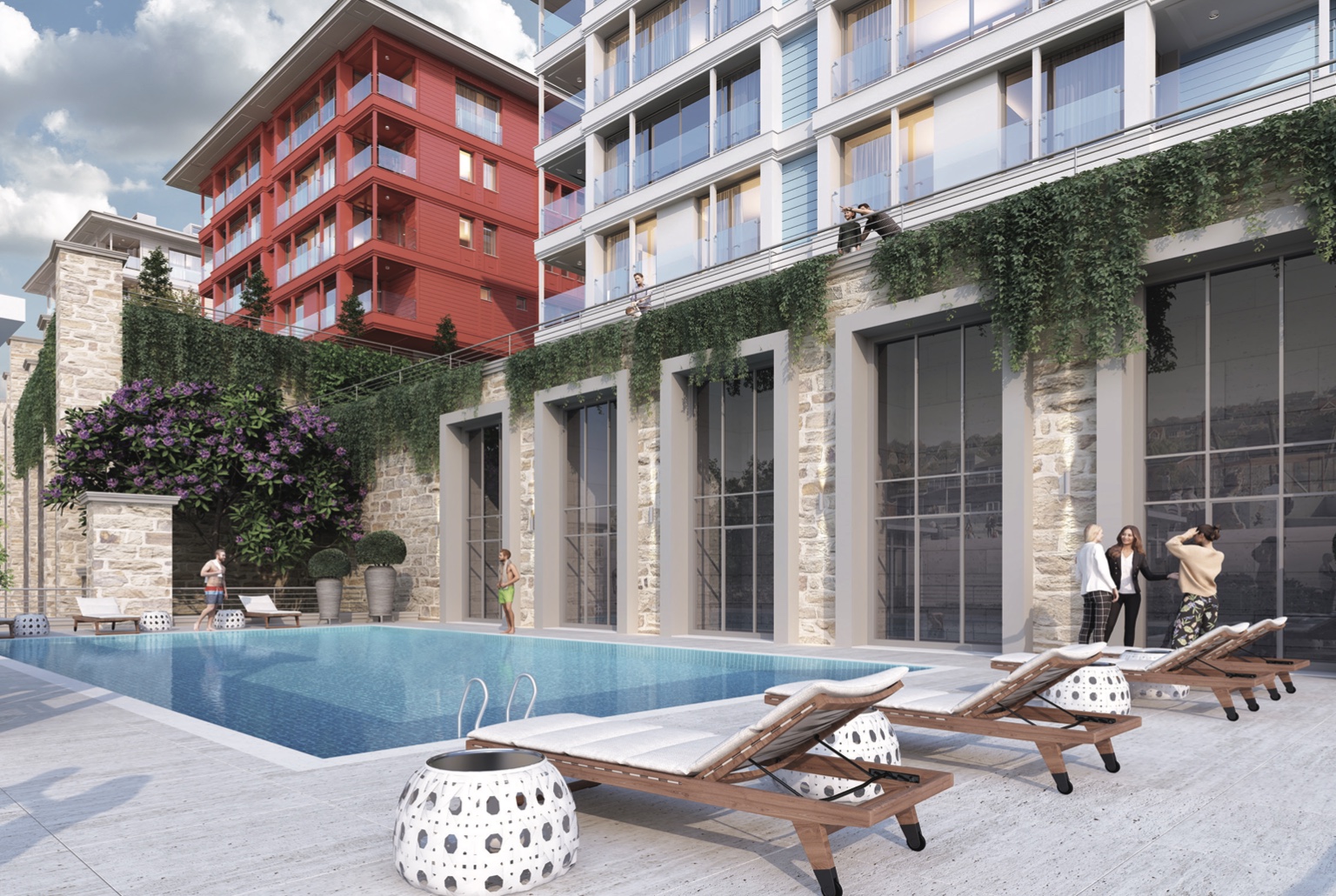 ANTTERAS BEYLERBEYİ & PRIVILEGES
At Ant Yapı, the focus of all our projects is the 'individual'. Our aim is to accurately identify the needs of our customers and to provide the right solutions to these needs. Therefore, the Antteras project, which is embroidered in the finest details of the art of architecture, remains a living space that produces solutions for all the needs of a family. All materials used in our project and the production of them are made in accordance with the technical specifications of the Ministry of Environment, Urbanization and Climate Change and in accordance with TSI norms.
General: All materials used and the production of them are made in accordance with the technical specifications of the Ministry of Environment, Urbanization and Climate Change and with TSI norms.
Construction System: Conventional system reinforced concrete carcass with a raft foundation, in compliance with the latest earthquake regulations; steel construction suitable for roof floor projects.
Partition Walls: Gypsum plaster on a reinforced concrete curtain and gas concrete block, satin plaster over gypsum plaster; satin plaster on insulated plasterboard partition walls on the roof floors and in suitable places for the project. Exterior: Decorative coated paint on reinforced concrete curtain and brick or gas concrete block exterior wall construction elements, covered with thermal insulation boards, and stone, wood, fiber-cement, and similar suitable materials for the project. Window closing system with structure and materials suitable for the project in the winter gardens; motorized awning infrastructure on the terraces in accordance with the project.
Roof: A metal cover over the roof making a steel construction, will provide the necessary heat and water insulation according to the project. Rain gutters and landing pipes suitable for the project.
Floor Coverings: Laminated parquet in the living rooms and corridors in accordance with the project; natural stone or granite ceramic coating in the hallways, kitchens, bathrooms, and toilets. Natural stone or granite ceramic coating on the terrace floors, depending on the project.
Wall Coverings: Textile-based vinyl wallpaper in all areas except the wet areas; Natural stone or granite ceramic and textile-based vinyl wallpaper in bathrooms and toilets, depending on the project.
Ceiling Coatings: Satin gypsum plaster and water-based plastic paint on reinforced concrete ceilings or plasterboard suspended ceilings; Satin gypsum plaster and water-based plastic paint on moisture resistant plasterboard suspended ceilings for the bathroom and toilet ceilings.
Windows: Aluminum joinery and glass railings with heat barrier and heat glass suitable for the project. High-quality glass for light and heat control and an exterior blind shade system infrastructure suitable for the project.
Doors and cabinets: External doors made of steel in accordance with the project, other doors made of MDF matte lacquered wood. Sliding door mechanism into the wall or on the wall surface where appropriate for the project, if any, a glass kitchen door. Built-in cloakroom cabinets made of material compatible with the interior doors of the apartment in accordance with the project.
Kitchens: Kitchens with wooden or lacquered tops, with composite stone or acrylic countertops and wall paneling; built-in white goods (refrigerator, oven, microwave oven, dishwasher, gas stove, hood), stainless steel sink, sink faucets, and accessories that vary according to the project.
Bathroom/Toilets: Built-in or surface-mounted bathroom and washbasin fixtures; bathroom cabinets with countertops and sinks; natural stone, composite stone or acrylic shower trays; tempered glass and stainless steel or aluminum shower panels; wall-hung toilet bowls with built-in cisterns, mirrors, bathroom accessories suitable for the project.
Duplex residential stairs: With wooden coated stair steps on steel construction suitable for the project, if any, with wooden handrails and railings suitable for the project.
Block common areas: Block entrances, stairs and landings, hallway flooring natural stone or granite ceramic coating.
Elevators: Descending to the parking garage; landing and cabin doors are fully automatic; cabinet with specially designed laminate or stainless steel; with digital signs; with emergency lighting; with security intercom system; with a system for bringing the cabin to the floor (UPS) in case of power failure; Imported elevators with increased landing and take-off comfort.
Building Complex Common Areas: Indoor social facility, children's playground and playgroups, sports grounds, adequately planted and grassed landscaping, rainwater collection network, irrigation of common areas and a water tank and hydrophore system that can meet the needs of the houses for a limited time, security, and service units.
Social Facilities: Outdoor swimming pool and children's pool, fitness center, sauna, steam room, shower-WC, cafeteria, children's playroom, barbecue area, management spaces.
Parking lots: Two indoor parking lots in accordance with the project and connected with the block elevator hallways.
Warehouses: One closed warehouse depending on its project and housing type.
Heating and Cooling System: Underfloor heating systems in all residences; stepless flame modulation, fuel-efficient, constant temperature water retention guaranteed combi device; A+ energy class air conditioning system with inverter compressor technology in the living room, bedrooms and kitchen.
Sanitary System: Hot-cold water system with polypropylene pipe, waste-water system with mineral-doped polypropylene silent pipes, mains water conditioning system.
Electrical Installation System: 1/1 power sound-insulated generator with automatic activation; residual current relay that will cut the current in case of an outage in the residences; special and TSI guaranteed cables and electrical equipment; motion sensor and energy-saving fixtures in common areas such as garages, hallways, stairs; Special lighting elements on the site roads, common areas and residential gardens. Switches and sockets suitable for the project, built-in suspended ceiling fixtures in the housing. Infrastructure arrangement to serve the installation of charging sockets for hybrid and electric vehicles in meter panels.
TV, Telephone, Internet: Based on the protocols, creation of a fiberoptic cable infrastructure by Türk Telekom up to the in-house weak current box and within the scope of the subscription, IPTV, IP or analog phone, broadband internet access service, telephone, data and TV-sat line in all rooms and kitchens, 40 analogue broadcasts over two TV lines fed from a multi-switch for each house, Digiturk and D-Smart broadcasts over a decoder, cable infrastructure for Wi-Fi wireless internet in social areas.
Security System: Security building suitable for 24/7 service at the main entrance, high resolution and day/night cameras at the site entrance and perimeter walls, digital video recorders, video intercom system in connection with block entrances and site security in residences.
Lightning Protection: Building-based, grounding, and lightning rod system (catching rod).
Fire Protection: Digital address fire alarm systems in the common areas of the site and inside the residences; heat detector in kitchens; smoke detector in all areas except wet areas; fire cabinet, fire alarm button, and flashing siren in the hallways; fire alarm facility in the security center; sprinkler in closed parking lots and driveways, fire cabinet; water fire extinguishing systems with hydrants in open areas; Fire smoke evacuation system in closed parking lots and vehicle roads.
Landscaping: Landscaping with plenty of trees and grass in the common areas; Vegetative soil laying, vegetative drainage system, garden irrigation system, germination and tree/plant planting will be done in the residential gardens in accordance with the landscaping projects. Within the landscape project, Antteras will be managed with a holistic approach on an area basis, and in practice a sustainability criterion will be taken into account.
Fireplace Chimney: A fireplace chimney that will allow the installation of closed type fireplaces in suitable locations, with size considerations, and only in roof duplex residences.
Insulation: Waterproofing on terraces, roofs and underground areas; thermal insulation in accordance with the project on the terraces and roofs with the floors in contact with the outside walls, open air; soundproofing on the flooring and walls between two houses.
This list is complete together with the architectural project it is attached to. Ant Yapı reserves the right to make any changes it deems necessary during the project development and implementation phase.