In the days when the Christmas trees are decorated and the rush to buy gifts begins, we are ready to welcome the New Year with our loved ones with happiness and enthusiasm. Whether you are planning New Year's parties with large groups or a small celebration with your partner in the comfort of your own home, we have prepared delicious recipes for you to cherish this New Year's Eve.
SALMON FILLED EGGS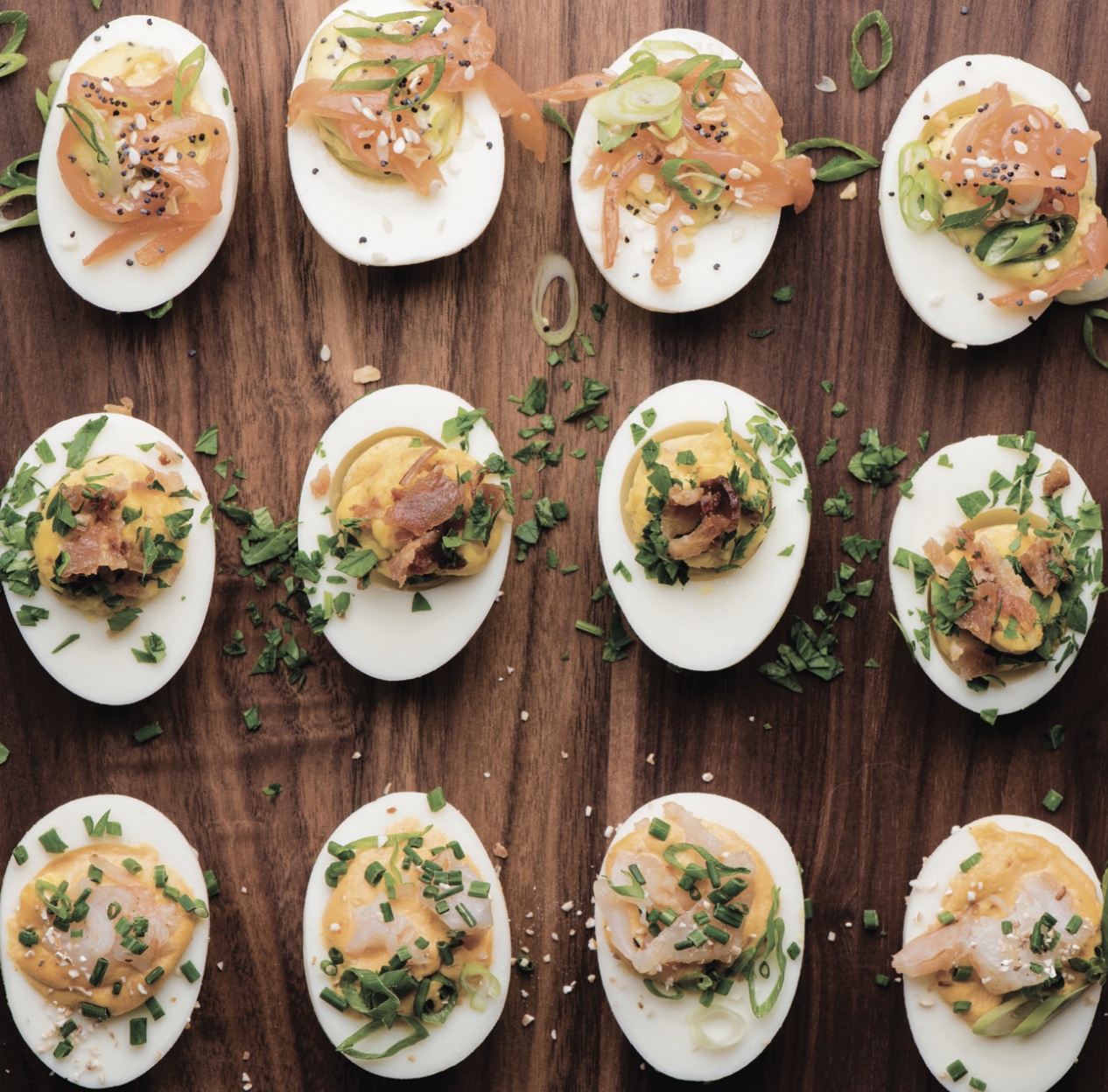 INGREDIENTS:
– 8 eggs
– 10 g smoked salmon
– 10 g beef jerky
– 10 g shrimp
– 4 fresh dill
– 1 pinch of chili
– 2 tablespoons mayonnaise
Toppings
– 2 dill
– 1 spring onion
PREPARATION:
Boil the eggs in a saucepan. 6 minutes after it starts to boil, put it aside and leave until it cools down. Peel the shells and cut the eggs in half lengthwise, place the yolks in a bowl and mash roughly. Add the chili, dill and mayonnaise and mash them altogether. Stuff the mixture inside the egg whites. Serve with slices of salmon, beef jerky and shrimp and garnish with chopped dill and spring onions.
SWEET POTATO SALAD WITH AVOCADO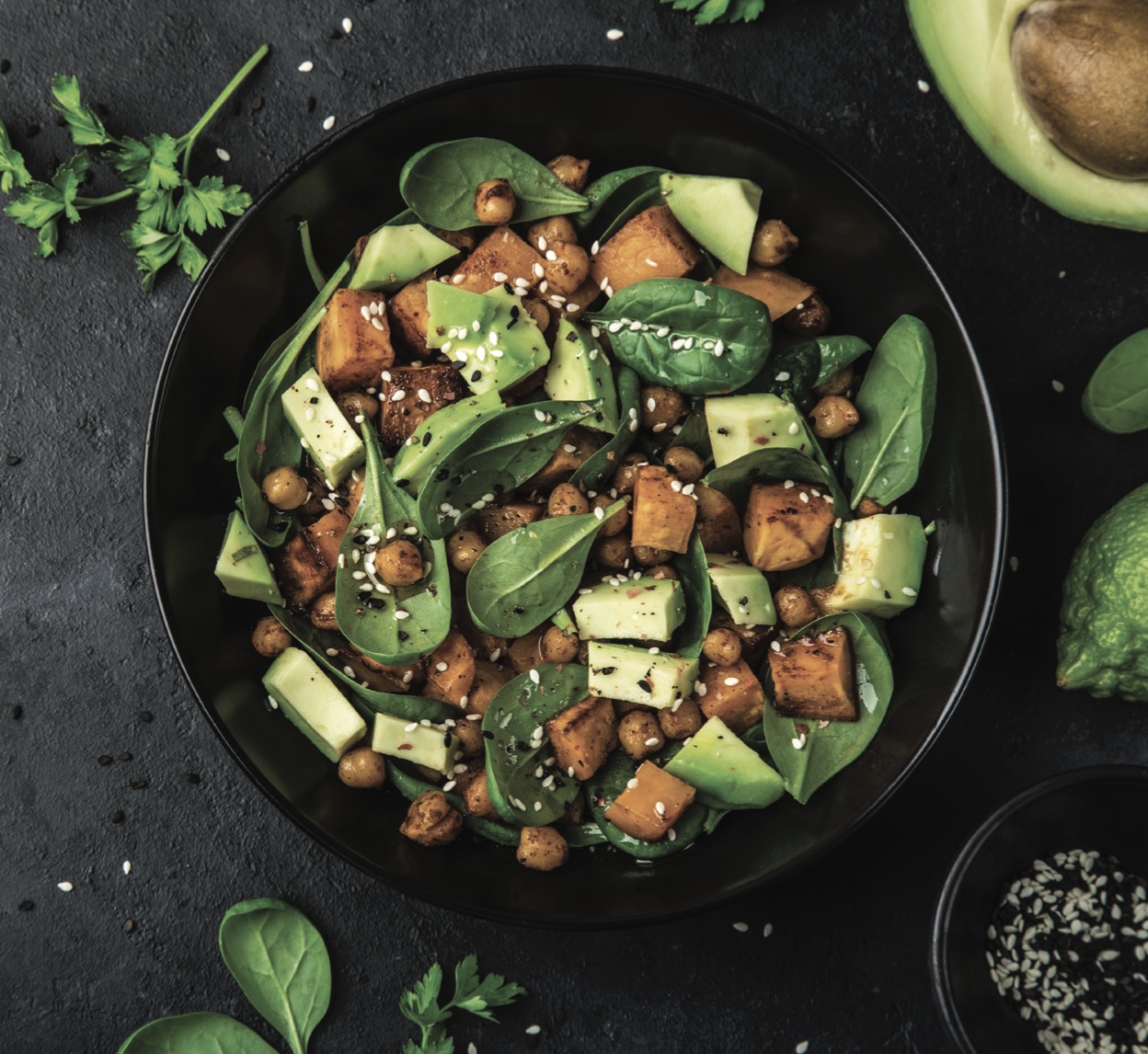 INGREDIENTS:
– 500 g sweet potato
Sauce
– 2 teaspoons cumin seed
– 2 cloves of garlic
– 5 tablespoons olive oil
– 5 tablespoons of red or white wine vinegar
– 1 orange
– 1 lemon
Salad:
– 3 ripe avocados
– 2 palms baby spinach
– 2 tablespoons boiled garbanzo
– 1 tablespoon sesame
PREPARATION:
Dice the potatoes and boil them in salted water. Heat the oven to 180 degrees and start preparing the sauce. Mash the cumin seeds, peppers, salt and black pepper. Add the garlic and continue mashing until it becomes a paste. Put the mixture in a large bowl, whisk together with olive oil and vinegar. Dip the drained potatoes into the mixture while they are still hot, gently mix. Cut the lemon and orange in half and place them on the tray. Pour the potato mixture on top and bake for 25-30 minutes or until golden. Then, cool for 5 minutes. Combine with diced avocado, spinach, and garbanzo. Transfer the remaining water on the baking paper to a bowl, add olive oil and vinegar at the same rate and pour the sauce you prepared on the salad. Sprinkle with sesame and serve.
PROSCUITTO & FIG CROSTINI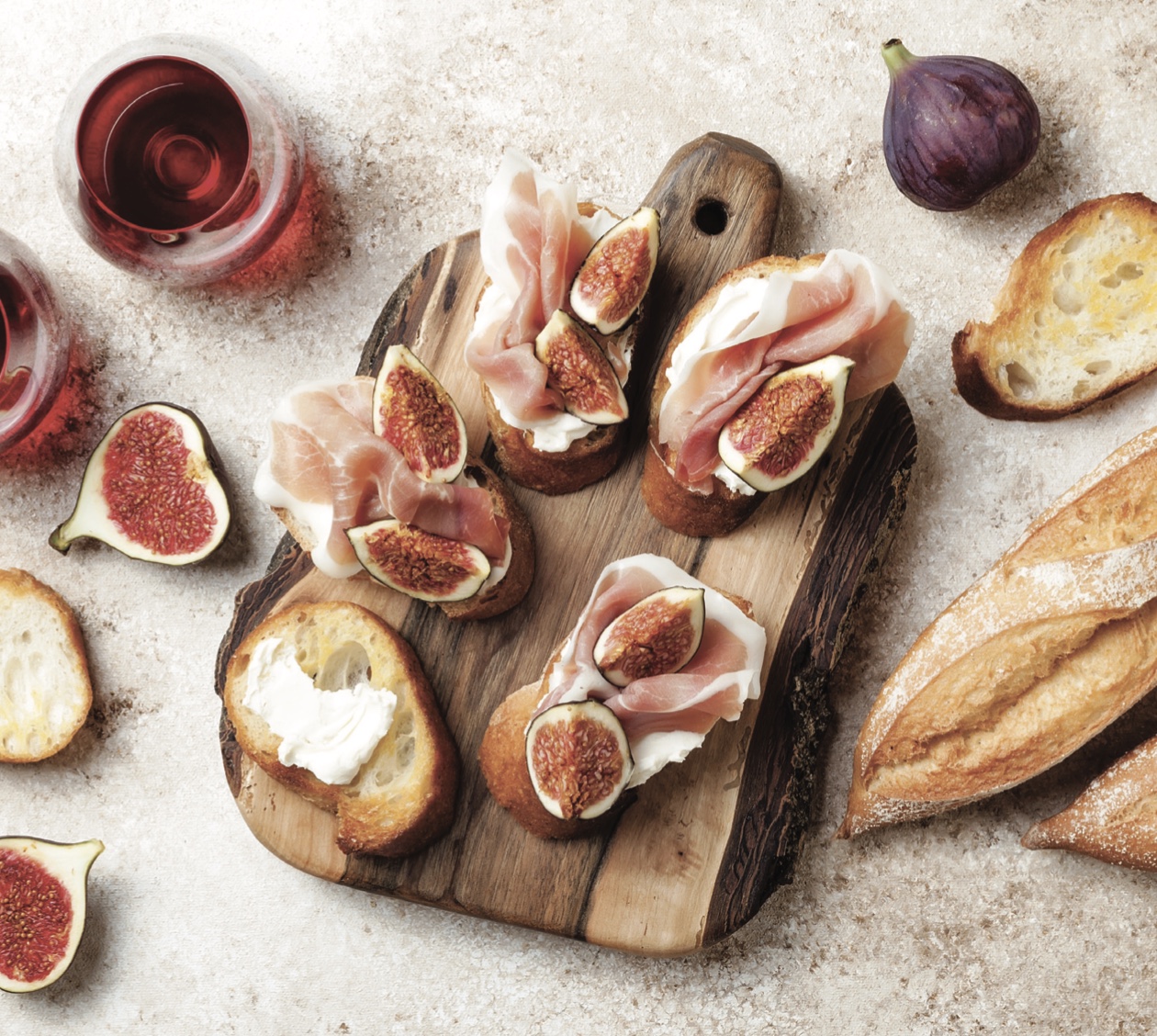 INGREDIENTS:
– 1 loaf of bread
– 6 large ripe figs
– 12 slices quality prosciutto
– 250 g cream cheese
Toppings:
– Extra virgin olive oil
– balsamic vinegar
– freshly ground black pepper
PREPARATION:
Slice the bread (medium slices) and grill them in a pan. Stir the cream cheese and rub it roughly over the slices. Roll the prosciutto slices and place them on the slices. Place the figs you have cut in half. Garnish with some olive oil, balsamic vinegar and a pinch of black pepper to your liking and serve.
BRUSSELS SPROUTS WITH PARMESAN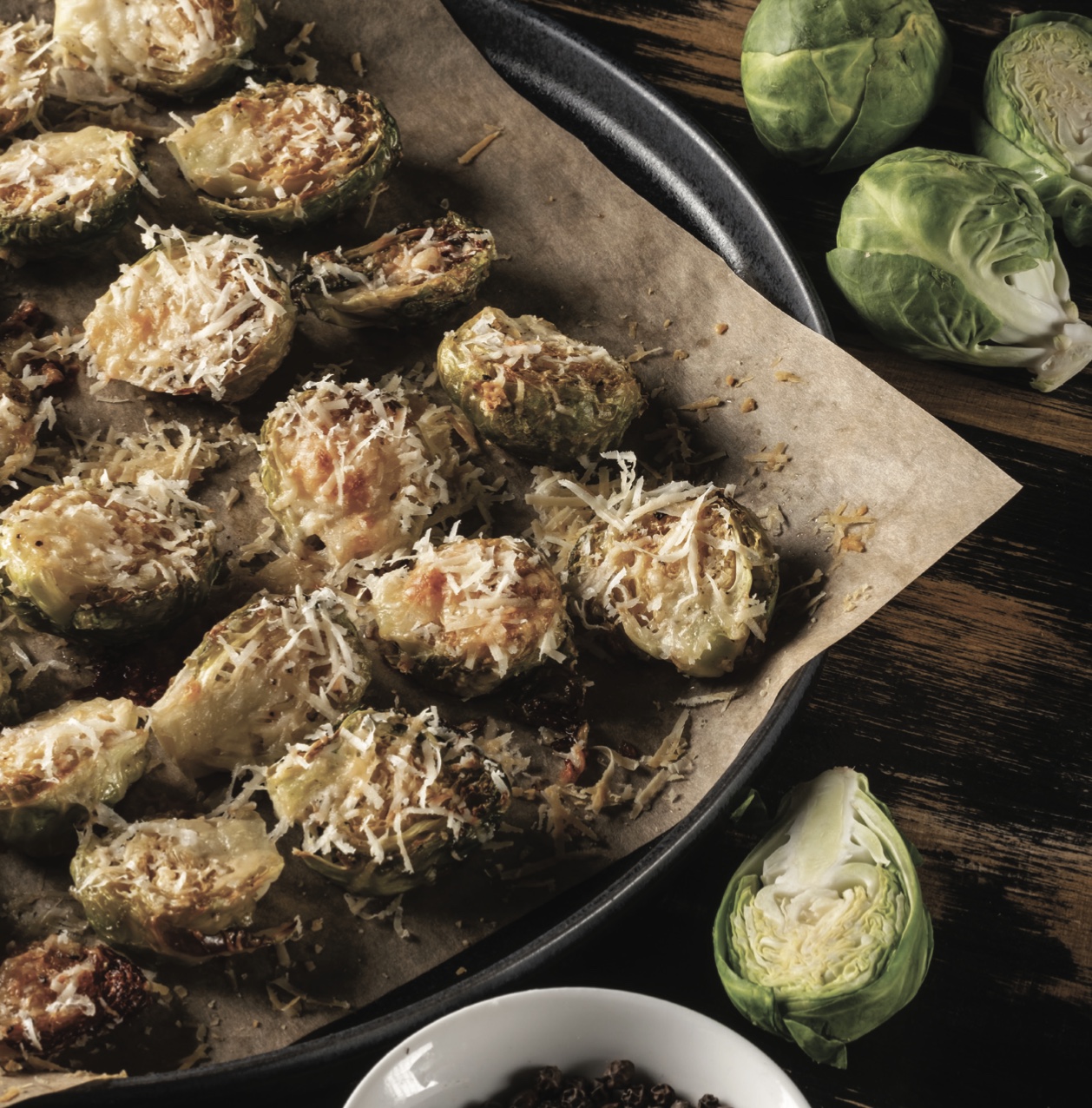 INGREDIENTS:
– 1 kilo Brussels sprouts
– 2 tablespoons extra virgin olive oil
– 1 lemon
– 1 teaspoon chili powder
– 4 tablespoon freshly grated parmesan
– freshly ground black pepper
– salt
PREPARATION:
Preheat the oven to 220 degrees. Cut the Brussels sprouts half, place them on a large baking tray. Add the oil, grate the lemon zest, then sprinkle with chili and a pinch of salt and black pepper. Mix it all around. Bake for 15 minutes, sprinkle with Parmesan cheese when they start to caramelize and bake for another 15 minutes until the cheese turns golden.
SGROPPINO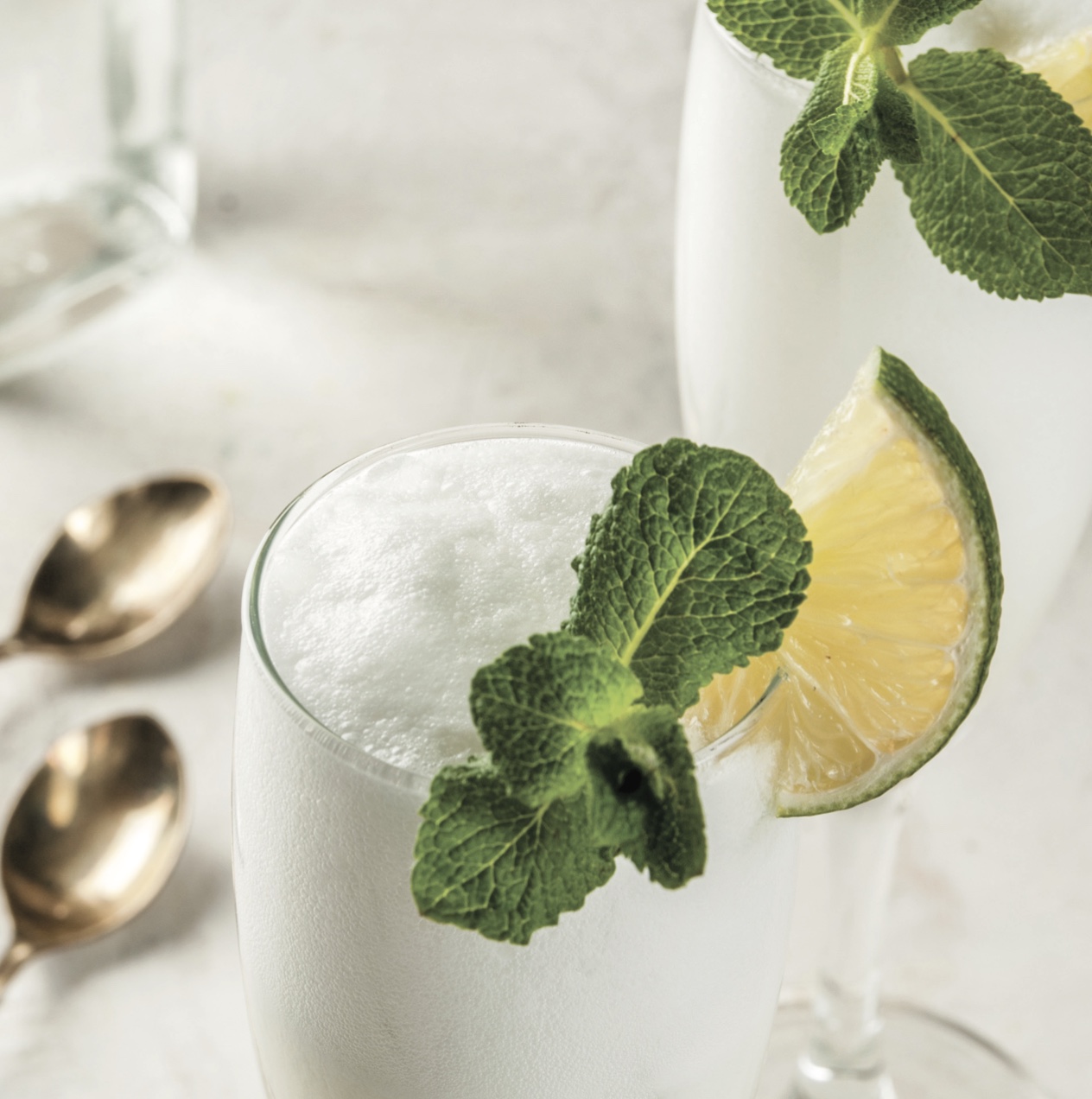 INGREDIENTS:
– 150 ml lemon sorbet
– 80 ml champagne
– 30 ml vodka
– 1 lime
– Fresh mint leaves
PREPARATION:
Blend all the ingredients. After blending, you should achieve a thick beverage like boza. You may have obtained a more fluid drink due to the heat of the vodka and champagne. For this, you can intensify the drink by adding lemon sorbet or ice cubes. Serve by grating the lemon zest on the sgroppinos you have divided into glasses or by placing the quartered lemons on the glasses.
LAMB RIB COVERED WITH CRISPY CHESTNU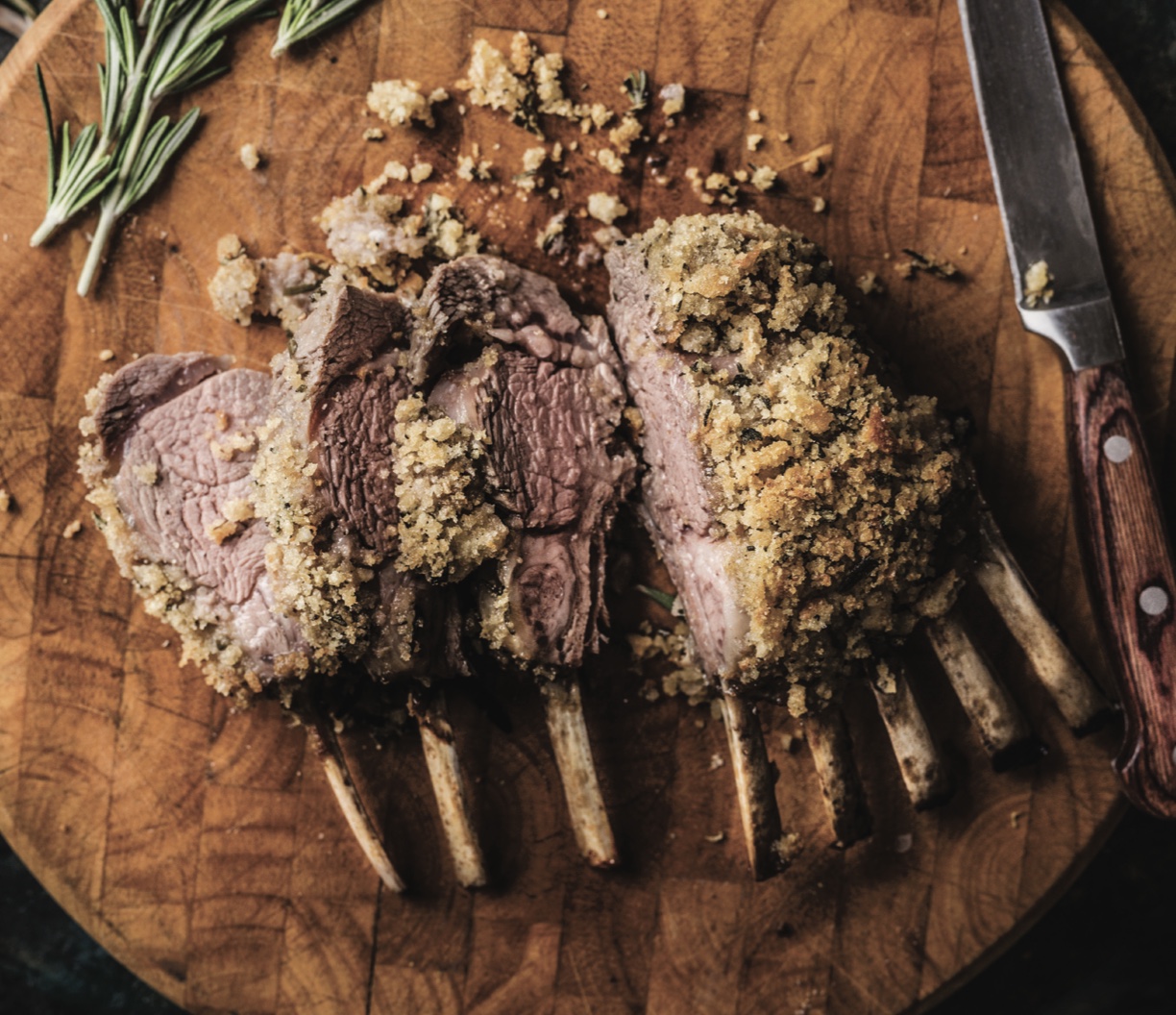 INGREDIENTS:
– 2.5 kg lamb rib (not sliced)
– Olive oil
– 2 tablespoons Dijon mustard
– 5 g dried porcini mushroom
– 50 g whole-wheat bread
– 70 g chestnuts (sous vides)
– 1 fresh rosemary (or fresh sage)
PREPARATION:
Preheat the oven to 180 degrees. Take the rib out of the refrigerator and allow it to come to room temperature. Season the rib with salt, freshly ground black pepper and drizzle some olive oil. Rub the mixture all over the meat. Heat the cast iron skillet over a high heat and place the meat. Seal by frying both sides for 2 minutes without reducing the heat and without moving the meat. Keep the water from the pan to one side. Place the meat on the baking tray and after a while, spread the mustard on it. Put the porcini mushrooms in a small bowl, soften them with boiling water and drain. In a food processor, add porcini mushrooms, bread, chestnuts, rosemary leaves, a pinch of salt, freshly ground black pepper, and some olive oil and process until you get a paste-like texture. Run the food processor briefly and often. Keep adding olive oil until you get a paste-like texture. Coat the meat with this paste. Bake on the middle shelf of the oven for 40-60 minutes until the coating color changes and turns brown. Take the meat out of the oven and rest it for 20-30 minutes at room temperature. Garnish with rosemary to serve.
DARK CHOCOLATE EGGNOG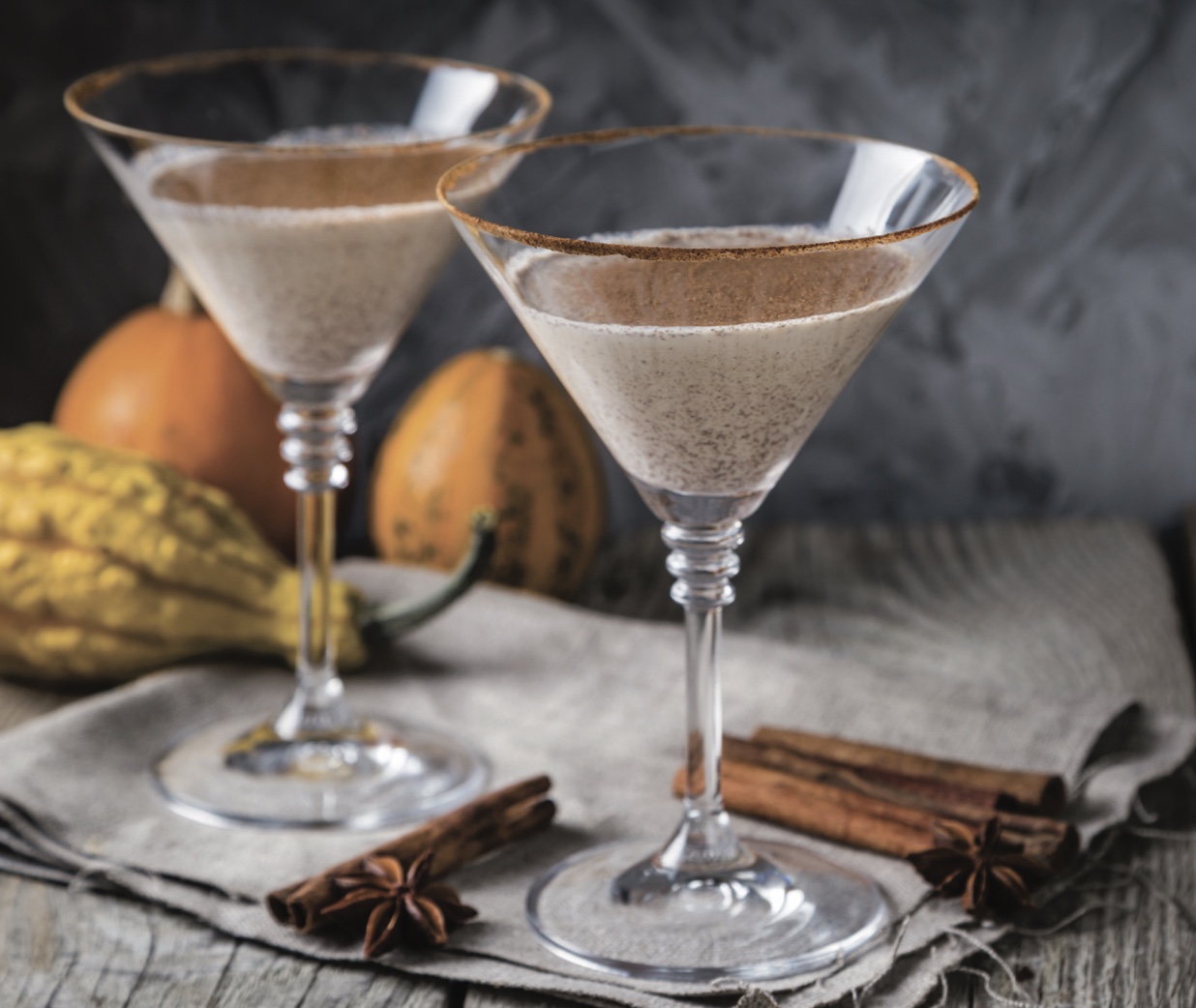 INGREDIENTS:
– 600 ml milk
– 1-2 cardamom
– 1 cinnamon stick
– 2 cloves
– 1 vanilla stick (for beans) (1 teaspoon vanilla extract)
– 100 g dark chocolate (70% cocoa)
– 4 eggs
– 1 pinch of salt – 3 tablespoons honey – ¼ nutmeg
– 2 heaped tablespoons of cocoa powder
– 300 ml rum
Toppings
– cinnamon powder
– Nutmeg powder
– grated chocolate
PREPERATION:
In a medium saucepan over medium heat, whisk together milk, crushed cardamom, cinnamon, cloves, and vanilla beans. Turn the heat down and place a glass bowl over it and break the chocolate and add it to the bowl. Separate the whites of the eggs into a dry bowl and the yolks into a separate bowl. Add a pinch of salt to the egg whites and mix first at low speed, then at high speed. Continue whisking until the egg whites are in a solid form and keep in the refrigerator. Add honey, cocoa to the egg yolks, grate nutmeg and whisk. Add the hot milk to the chocolate bowl in several batches and mix and add this mixture to the egg yolks slowly and mix quickly. Add the rum and cream and mix. Combine the whole mixture with egg white, whisk quickly until you get a homogeneous consistency. You can consume Eggnog either cold or hot according to your taste. If you are going to consume it hot, you can keep it warm in a bain-marie without exposing it to direct heat. Divide into glasses and serve with powdered cinnamon, nutmeg, or grated chocolate.